Fujisip cool pain relief patch 10 bags 2 pieces
Fujisip cool pain relief patch is used to reduce swelling and pain caused by injury or fracture. Relieve pain in arms, legs, shoulders, and back. Relieves aches and pains caused by cold and damp weather.
In addition, this product with herbal ingredients also helps you to relieve shoulder, back, joint, muscle, bruise, and sprain pain quickly. Suitable for people who like to play sports and do heavy work.
Origin: Made in Vietnam by Tatra Pharma
EXP: new product, 03 years from the manufacturing date.
Package: a box containing 10 bags x 02 patches (14cm x 10cm), free shipping worldwide.
Ingredients: Menthol, camphor, menthol, eucalyptus essential oil, polymer, gelatin, tartaric acid, glycerin, zinc oxide, titanium dioxide, purified water.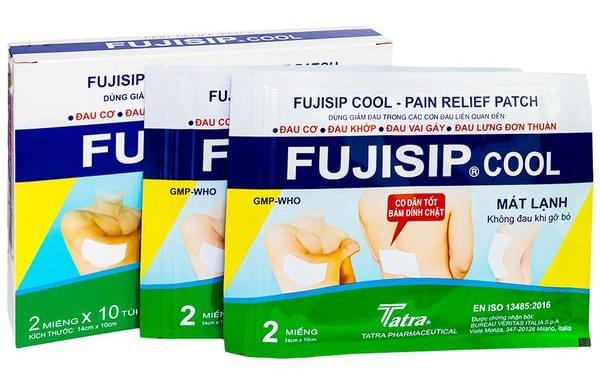 How to use Fujisip cool pain relief patch?
Adults and children 12 years and older. Wash and dry the affected area. Take the patch and remove the film. Stickers can be cut to size. Slightly stretch the patch and stick it to the painful area. Do not use more than 3-4 pieces per day on the same spot. Do not use more than 7 consecutive days.
Contraindications: Not for children under 12 years old, pregnant women in the first 3 months, or lactating women.
Warnings and cautions: For external use only, do not swallow. Do not apply to eyes, nose, mouth, mucous membranes, open wounds, or scratched skin. Discontinue use and ask a doctor if the condition worsens or pain persists for more than 7 days or if the pain becomes itchy or rash. Pregnant women should consult a doctor.
Other product information
Storage: in a dry and cool place, avoid direct sunlight
Shipping time to Europe: 10-21 days
USA, Canada, America, Africa: 15-30 days
Asia, Australia, New Zealand: 12-25 days
Frequently bought together