Acnes C10 Vitamin C 10% Reduce Scar, Black Spot
Acnes C10 Vitamin C 10% Pure Vitamin C Mentholatum is the special serum to reduce scars, black spots, freckles, and wrinkles. Also, it helps to make the pore smaller, reduce bruises, whiten skin, and make skin smoother.
Expiry: 02 years from manufacturing date
Package: 01 box x 15 ml net weight.

Origin: Made in Vietnam by Rohto Mentholatum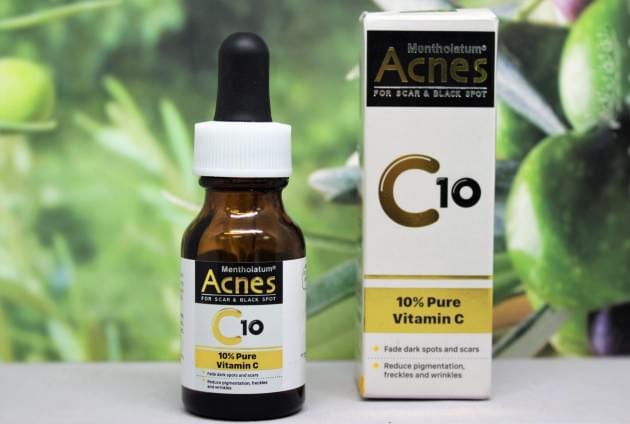 How to use Acnes C10 Mentholatum?
Take an appropriate amount (1-2 drops) into the palm, fingertips rub all treated skin areas two times daily (morning and evening). Tighten the cap after use and store it in a cool refrigerator
Other product information
This product is not a medicine, it is not a substitute for medicine. Do not use it for people who are sensitive to any of the ingredients in the product. Consult your doctor before using it for pregnant or breastfeeding women.
Store in a cool, dry place, away from direct sunlight.
Products may be subject to import tax depending on the laws of each country, we are not responsible for this tax
Shipping: Europe: 10-21 days
United States, Canada, America: 15-30 days
Asia, Australia, and New Zealand: 12-25 days
Frequently bought together