Thai Duong Ginger Medicated Oil contains ginger oil extract
Thai Duong ginger medicated oil is a combination of ginger extract and other natural essential oils to effect in expelling cold and relieving pain.
According to traditional medicine,
ginger
is pungent in flavor and warm in nature. It induces sweat, expels cold, warms the middle, alleviates vomiting, drains phlegm, promotes fluid circulation, and resolves toxicity.
Ginger is used to dispelling exterior pathogenic factors, superficies syndrome, abdominal distention,
vomiting
, diarrhea, and cold limbs to prevent the common cold, rheumatism, etc…
Origin: Made in Vietnam by Thai Duong Pharma
Packing: 01 box x 24 ml ; Gross weight 95 gram/ box.
Exp: new product, 02 years from manufacturing date
Indication: For the relieving of a common cold, stuffy nose, running nose, headache, rheumatism muscular pain, aching in the shoulder and back of the head, general aching, cold abdominal pain, nausea due to wind-cold, motion sickness, itching due to mosquito and other insect stings.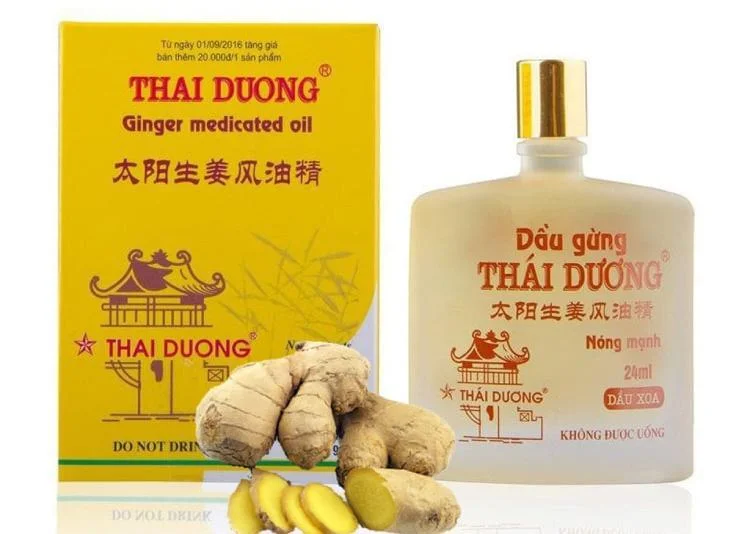 Composition: 24 ml of Thai Duong medicated oil contains
Menthol: 7,0 g
Oleum Ocimi Gratissimi: 0,25 ml
Menthae: 1,0 ml
Cinnamomi: 0,5 ml
Cajuputi: 1,0 ml
Rhizoma Zingiberis (Equivalent to 8,9 ml ginger extracts): 12,0 g
Methylin Salicylas: 4,8 g
Camphora: 0,5 ml
Paraffin, perfume Lily q.s: 24 ml
How to use Thai Duong Ginger Medicated Oil?
Dosage: 3-5 times daily. 

Common cold and influenza, headache, general aching: Slightly massage into the areas of forehead, temples, and palms of hand and soles of feet, wrists, and painful weary areas in the shoulder and back of the head.

Exhaling out cold evils (medicated steam bath): Pour 10-40 drops into a hot water basin, then closely cover both the patients and the exhaling basin with a blanket or a piece of clothes for 10-15 minutes.

Motion sickness, nausea, cold abdominal pain: Slightly massage into the umbilical area, and wrists (near hand palms).

Mosquito and other insect stings: Slightly massage into

mosquito

stinging.

Caution: Not recommended for children under 2 years. Do not drink and keep away from the eyes and other mucous membranes. 
Other information
Storage: Store in a dry place, below 30°C, away from direct light
Shipping: Europe: 10-21 days
United States, Canada, America: 15-30 days
Asia, Australia, and New Zealand: 12-25 days
You may also like