Cobratoxan Snake Venom Skin Cream Кобратоксан
Cobratoxan Snake Venom Skin Cream is made from Cobra snake venom, used for Analgesia in rheumatism, myositis, neuralgia, and inflammation. This medicine warms your muscles to make you a comfortable feeling. Due to the direct impact of venom. It helps to reduce pains quickly.
Origin: Made in Vietnam by Dong Duoc 408 Pharma
Expiry: new product, 24 months from the date of manufacturing
Packing: 01 Tube x 20 grams (net weight). Gross weight 32 grams/ box.
The composition of each 20g tube contains Cobra venom 0.0005g, Methyl salicylate 2.8240g, Essential oil methol 0.5882g, Emulsion excipients sufficient 20g.
Indications: Analgesic in rheumatism, myositis, neuralgia inflammation.
Contraindications: Do not rub onto ulcers, sores, or graze. Avoid contact with lips, mouth, eyelids, and lactation. Do not use for children under 5 years old.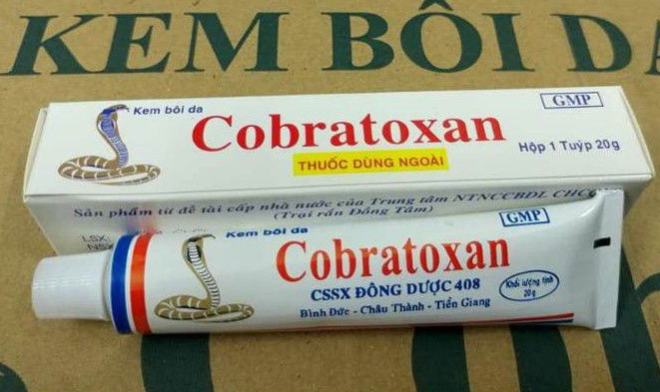 How to use Cobratoxan Cream?
Gently massage the painful areas with a sufficient amount of Cobratoxan until fully absorbed, 2-3 times a day.
Storage: store at a cool place, protect from direct sunlight.
Recommendations: Read the instructions carefully before use. If you need more information, ask your doctor or pharmacist.
Shipping: Europe: 10-21 days
United States, Canada, America: 15-30 days
Asia, Australia, New Zealand: 12-25 days
You might also like