Gastosic reduces gastroesophageal reflux, restores esophageal mucosa
Gastosic reduces gastroesophageal is a functional food product to support the digestive tract, reduce gastroesophageal reflux, and reduce inflammation of the stomach and duodenum mucosa. The product also helps to reduce the symptoms of belching, heartburn and burning pain in the epigastrium due to excess gastric acid.
People who should use the product are people with acute and chronic stomach and duodenal ulcers, and people with digestive disorders due to stress, bloating, indigestion, food poisoning, alcohol, and tobacco...
Origin: Made in Vietnam by CVI pharma
Content: Box of 30 soft capsules
EXP: 02 years from the manufacturing date
Ingredients of Gastosic product
Curmanano, Matricaria chamomilla, Atractylodes Lancea, Coptis, Magnolia, Glycyrrhiza Uralensis, Pinellia Ternata, Fructus Evodiae Rutaecarpae, Ginger, Starch, talc, magnesium stearate, etc.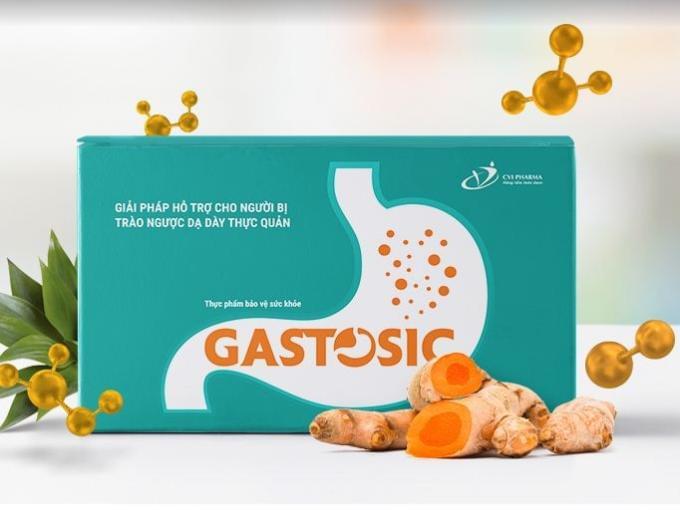 How to use Gastosic to reduce gastroesophageal?
For people with reflux, and stomach ulcers: 02-3 times/day, 2 tablets each time
Enhance gastric and duodenal function and prevent recurrence: 1-2 tablets/time, 2 times/day
Drink 30 minutes before breakfast and at night before sleeping.
Other product information
Note: This functional food is not a medicine, it does not have the effect of replacing medicine.
Storage: Store in a dry place, below 30°C, away from direct light
Shipping time to Europe: 10-21 days
United States, Canada, America: 15-30 days
Asia, Australia, New Zealand: 12-25 days
Frequently bought together products