Curcuma Longa Curcumin Powder, 02 boxes x 100 grams
Curcuma Longa Curcumin Powder is a medicinal plant species rhizomes. The scientific name is Curcuma Longa Linn. Classified in the ginger family. (Zingiberaceae) such as cinnamon, cardamom, black cardamom, and galangal.
Turmeric is rich in vitamins and minerals such as vitamin A, vitamin B1, vitamin B2, vitamin B3, vitamin C, vitamin E, calcium, phosphorus, iron, and minerals. Including fiber Carbohydrates and proteins, etc.
Packaging:02 boxes x 100 grams Net Weight, a total of 200 grams
EXP: new product, two years from the manufacturing date.
Origin: Made in Vietnam by Ba Be Co., Ltd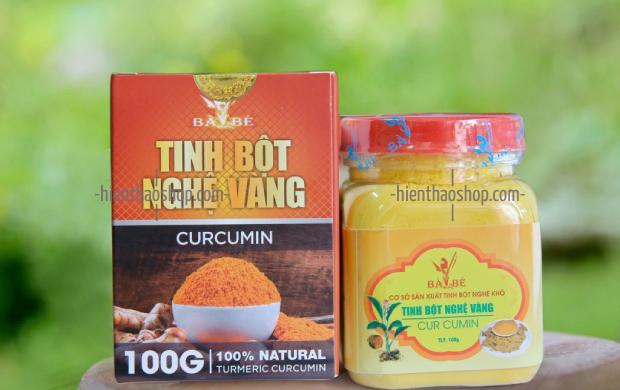 Curcuma Longa Curcumin Powder Properties
The first is that there are canary properties of antioxidants that help to slow down aging and wrinkles. Help strengthen the immune system of the body.
Turmeric may play a role to prevent problems for the gut, reducing cholesterol levels in the body, eliminating toxins from the body, treating high blood pressure, reduces inflammation.
Essential oils in turmeric help to relieve abdominal pain, and relieve colic, distension, and flatulence point. Help heal stomach ulcers And colon cleansing. Help prevent hemorrhoids.
It helps to treat eczema with the use of turmeric powder mixed with water.
Help heal wounds and insect bites. Use the turmeric and wash thoroughly. Then pound until juice, is applied to the affected area.
Help fight bacteria and viruses, such as the bacteria that cause stomach ulcers, diarrhea, gonorrhea, etc.
The effect of anti-mutant. And anti-carcinogens that are associated with the problem caused by the degeneration of the body
Other product information
Storage: Keep in a cool, dry place, and avoid direct sunlight.
Shipping: Europe: 10-21 days
United States, Canada, America: 15-30 days
Asia, Australia, New Zealand: 12-25 days
You may also like