Boganic Traphaco Hepatobiliary Tonic increases Liver Function
Boganic Traphaco Hepatobiliary Tonic is a functional and botanical herb support increased Liver Function due to the overuse of alcoholic drinks.
Made in Vietnam by Traphaco Pharma., Ltd
Expiration: new product, 24 months from the date of manufacturing
Package:  Box of 05 blisters x 10 soft capsules.
Ingredient: Each soft capsule contains Extractum Cynarae Scolymi: 200 mg, Extractum Pharbitidis: 16 mg. Excipients (Gelatin, Glycerin, Sorbitol, Lecithin, White beeswax, Aerosil, Soybean oil, Pail Oil, Titanium Dioxide, Sunset yellow lake, Brown HT, Nipagin, Nipasol, Ethyl Vanillin)..q.s.
Action: Cynara scolymus contains main active substances such as Cynarin, Polyphenols, Inulin, Mineral Salts. Cynarin is effective for increasing gall excoriation, stimulating appetite, strengthening heart function, diuretic, and anti-toxic. Polyphenols are effective for reducing cholesterol in the blood and protecting the liver. Cynara Scolymous is used for treating liver- function deficiency and jaundice, fighting against the increase of blood cholesterol levels, and treating atherosclerosis.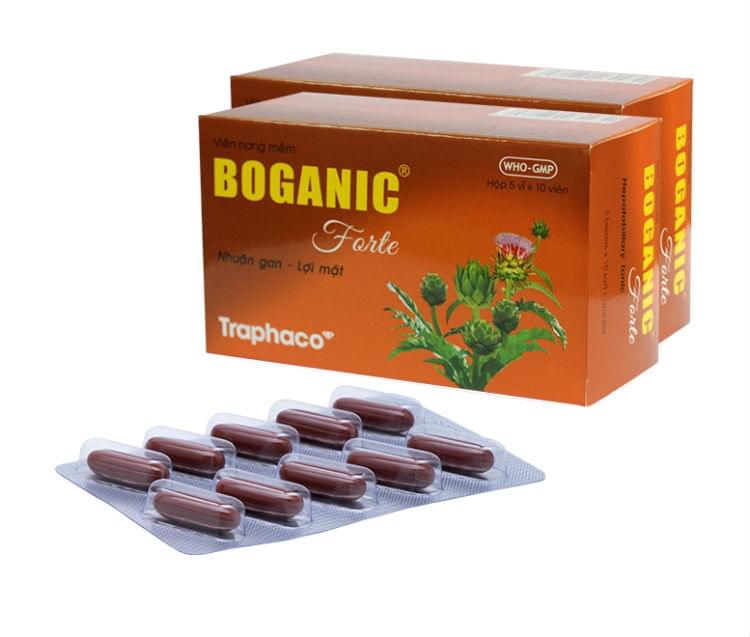 Glinus oppositifolious contains Spergulagenin A-a saturated Triterpenoid Sapogenin, Trihydroxy Cetone, It has a tonic effect on the intestine, diuretic, hepatobiliary tonic effects.
Pharbitis nil contains Pharbitin, which is a Glucoside. It has laxative, diuretic, and antiseptic effects.
Indication of Boganic Traphaco
Increased Liver Function, especially due to overuse of Alcohol drinks
Prevention and support in the problems of hepatitis induced by drugs or chemical substances.
Liver insufficiency, hepatitis with symptoms of fatigue, jaundice, indigestion, Urine retention, constipation…
Allergy, pimples, itchy, urticarial due to hepatopathy

Atherosclerosis, hyperlipidemia
Administration of Boganic Traphaco Tonic 
Adults: 1-2 capsules, 3 times a day, Children over 8 years old: 1 capsule; 2-3 times per day
Contraindication: Hypersensitive to any of the components of products. Patients suffer from gall-bladder and bile duct inflammation in combination with obstruction
Adverse Reaction: No Adverse Reaction to the drug has been reported. Inform your physician of any unusual reactions while using the drug.
Precaution: Must be cautioned when used for pregnancy. Storage in a cool and dry place
Shipping: Europe: 10-21 days
United States, Canada, America: 15-30 days
Asia, Australia, and New Zealand: 12-25 days
You may also like