Amway Vitamin E Nutrilite Parselenium 60 tablets
Amway Vitamin E Nutrilite Parselenium is a naturally potent antioxidant supplement providing Vitamin E and Selenium. It contains 400 IU of Vitamin E and 10 mcg of Selenium. Unlike synthetic vitamin E, NUTRILITE Parselenium E contains the full spectrum of tocopherols especially d-alpha – tocopherols that are stable in form. Also, It provides additional nutritional benefits of exclusive NUTRILITE Parsley concentrate.
Packaging:  01 box x 60 Tablets.
Expiry: new product, 02 years from manufacturing date
Origin: Made in Vietnam by Amway Co., Ltd 
Please note: This product is made by the Amway factory in Vietnam. The characters on the boxes are in Vietnamese. We will send the translation paper, but please consider it before purchasing. You will be able to see the ingredients and nutritional ratio in the box.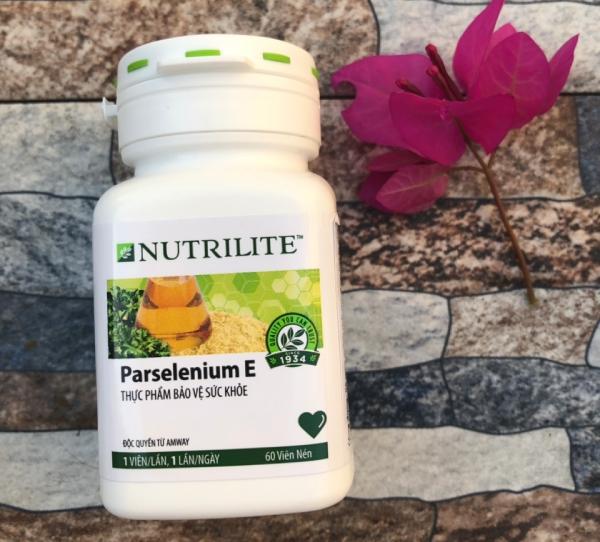 The benefit of Amway Vitamin E Nutrilite
A potent antioxidant that provides a defense against free radical damage. Vitamin E is a free radical defender, delays aging, and protects the skin. It supports stimulating an immune response and builds resistance to infection. It also helps the formation of blood cells and protects the cell membrane.
Selenium in NUTRILITE Parselenium E supports a healthy heart. It also provides additional nutritional benefits of phytonutrients from exclusive NUTRILITE Parsley Concentrates.
Warning: Children under 12 years of age, pregnant or lactating women or anyone with a medical condition should consult their physician before using this product.
How to use Amway Vitamin E Nutrilite Parselenium?
01 tablet daily after meals for people aged 15 years and above contains:
Approximate composition per serving
Energy 2.44 Kcal
Carbohydrate 0.45 g
Protein 0.01 g
Fat 0.06 g
Vitamin E ( from Vitamin E succinate) 330.40 mg
Selenium (from selenium yeast ) 10.00 mcg
Parsley concentrate (Nasturtium spp.)[leaf,stem] 72.40 mg
Shipping: Europe: 10-21 days
United States, Canada, America: 15-30 days
Asia, Australia, and New Zealand: 12-25 days
You might also like