Aromatic Golden Star Balm 10 grams
Aromatic Golden Star Balm Vietnam is one of the famous and old-proven products from Vietnam. It is a rare combination of vegetable oils. This medical balm is 100% made from traditional ingredients. Golden Star Balm is very popular in Vietnam and in the world.
Expiry: 02 years from manufacturing date
Packing: 01 box x 10 grams net weight, Shipping weight 24 grams.
Origin: Made in Vietnam by OPC pharma
Note: for customers in Germany, please do not buy this product because German customs will not allow it.
Ingredients
Camphor – 849.20 mg
Methol – 425.20 mg
Menthae – 525.20 mg
Cajeput – 210.80 mg
Ocimi Gratissimi – 130.80 mg
Cinnamon – 53.20 mg
(Paraffin, bee wax, Lanoline, Vaseline)
Indications of Aromatic Golden Star Balm
It is useful for Cold and Flu, headaches, Mosquito and other insect bites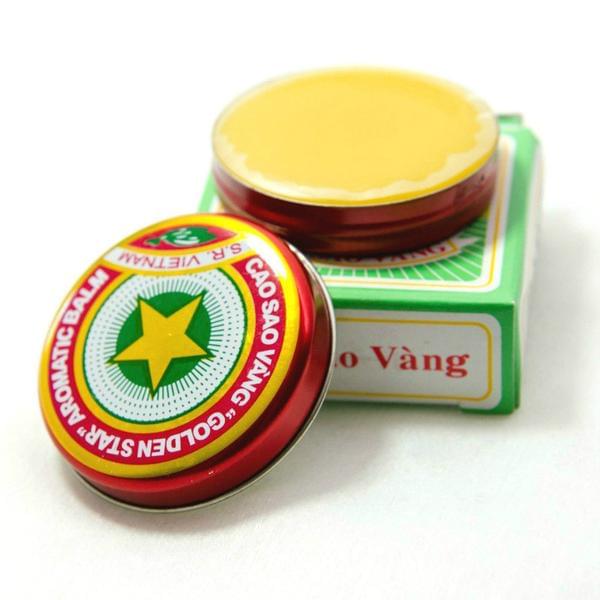 How to use this balm?
Golden Star Balm is very useful for colds, dry coughs, hard breaths, rheumatism, migraines, and aching joints. Material for the manufacture is natural essential oils from eucalyptus, peppermint, clove, and cinnamon. In addition, the composition of balsam includes aromatic acids and herbal products, the main task of which irritates nerve endings of the skin and mucous membranes of organs.
A headache: If you have a headache, or seasickness during the trip, you can rub a very small amount of balm below the nose, on the forehead, and neck. After using, please clean your hands before touching your eyes (may burn much).
Hard Breath: In boiling water, add a bit of balm, and you can make better inhalation when breathing.
A dry cough: In the case of no inflammation, use a small amount to rub on the neck and sole of the foot. Keep warm with socks for a few hours. Try not to use it too much and too many times.
Insect Bite: To prevent insect bites (mosquito, ant..) you can use a small amount to rub on your hand and your legs. The scent of balm will keep bugs away. If you are stung by an ant or mosquito, use a litter amount to rub on the place in which the insect bites. It will relieve the itching
Shipping: Europe: 10-21 days
United States, Canada, America: 15-30 days
Asia, Australia, and New Zealand: 12-25 days
Frequently bought together