Solanum Procumbens CaliUSA 60 capsules, enhance liver function
Solanum procumbens CaliUSA has the effect of helping to clear heat, cool the liver, and help detoxify and protect liver cells. The product supports liver function in cases of hepatitis, cirrhosis, high liver enzymes, and people who drink a lot of alcohol.
Expiry: 03 years from the manufacturing date, new product
Packing: 1 bottle x 60 capsules
Origin: Made in Vietnam by Phulipha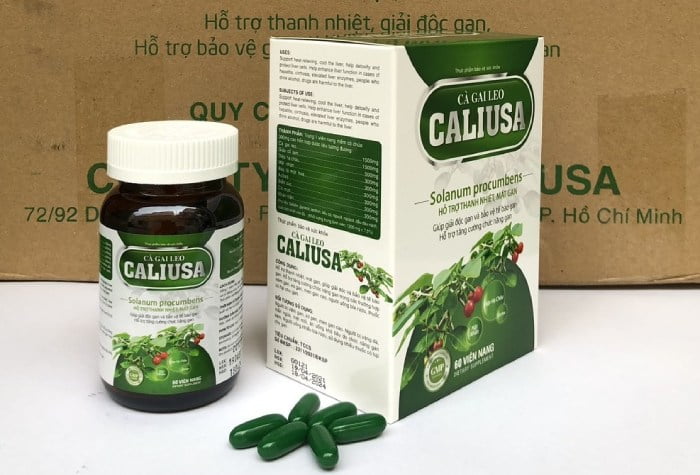 1 soft capsule contains
390mg of mixed medicinal herbs equivalent to: Solanum Procumbens 1500mg, Gynostemma Pentaphyllum 1500mg, Phyllanthus prostrata 500mg, Honey kernel 300mg, Seven leaves one flower 300mg, Artichoke 300mg, Polygonum Aviculare 300mg, Eclipta Prostrata 300mg, Adenosma Glutinosum 300mg.
Other ingredients: Gelatin, glycerin, lecithin, palm oil, nipazil, soybean oil, purified water. (Average tablet weight: 1200 mg ± 7.5%).
How to use – dosage: Take 1 pill/time, 2 times a day.
Other product information
Storage: Keep in a dry, cool place. Protect from light and high temperatures over 30 C
Shipping: Europe: 10-21 days
United States, Canada, America: 15-30 days
Asia, Australia, New Zealand: 12-25 days
Frequently bought together