Alipas Ginseng Platinum produces the male hormone testosterone 
Alipas Ginseng Platinum helps the body to produce male hormone testosterone in a natural way to help: Slow sexual satisfaction in men over 40 years old.
It enhances physical health, improves male sexual frigidity. Support for erectile dysfunction, premature ejaculation, male infertility (due to low sperm). Support security interests, enhance liver function and regulate blood sugar
Expiry: new product, 02 years from manufacturing date
Packing: 01 bottle contains 30 Capsules
Origin: Made in the USA by Eco – St. Paul Pharma
Alipas Ginseng Platinum Information
Alipas Platinum is a newly developed product from Alipas. It has a higher ratio of Eurycoma Longifolia Extract 100:1 (LE-100) 240 mg compared with 160mg of the older version.
Eurycoma Longifolia is a small green tree that has grown about 15m high, in normal light, with many parts fluff. Leaves format in dual, consists of 13 to 42 symmetrical spoon leaves are about 20 to 40 cm. Flowers dioeciously more cotton, cotton every 5 to 6 petals. Fruits green and dark red at 1 to 2 cm long and 1 cm wide. Eurycoma Longifolia roots are long used for alcohol-soaked pitches.
Root and bark taste is very bitter, Alipas should use deworming medicine, relieve malaria, dysentery, botulism, bloating, the drunk, detoxify, and regulate blood pressure. When used on the skin, Alipas scabies medications. Also the bark and roots is good for quassinoid ingredients, triterpenoid, and Alcaloiit help increases energy and endurance activities body.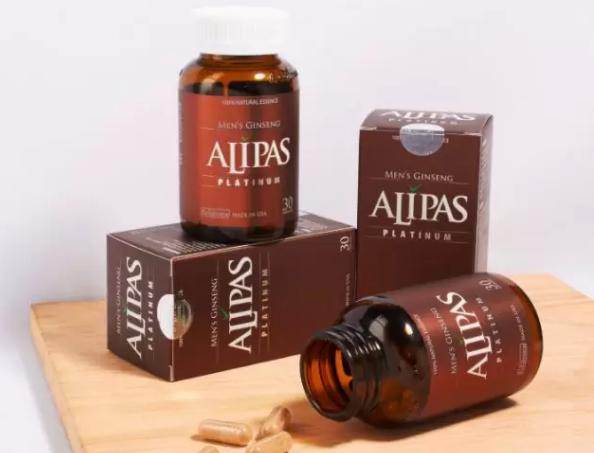 Alipas Ginseng Dosage
-01 capsule per time, after meals, use 02 times/day, in the case of support security interests, liver cell regeneration and regulates blood sugar
-Round use from 1 to 3 months. Should be used regularly.
Eurycoma Longifolia Extract 100:1 (LE-100)
240 mg
Butea Superba Extract PE 30:1
100 mg
Tribulus 45% Saponins
100 mg
Horny Goat Weed 10% Icariin
100 mg
L-Arginine HCI
100 mg
Zinc Picolinate 20%
 55 mg
Avena Sativa Extract PE 10:1
 50 mg
Ginkgo Biloba 24%
 40 mg

Gelatin, Magnesium Stearate
Shipping: Europe: 10-21 days.
United States, Canada, America: 15-30 days
Asia, Australia, New Zealand: 12-25 days
Frequently bought together