Speed Whitening Ex Cream Dabo night cream
Speed Whitening Ex Cream Dabo is a product that not only has a whitening effect as the name suggests, but also enhances moisture, increases elasticity, prevents aging, and helps skin to be naturally white, smooth, and fresh.
Speed Whitening Ex Cream with ingredients extracted from nature has a quick and very safe whitening effect. It helps to moisturize, shrink pores, restore damaged skin, and prevent and eliminate the formation of dark spots, and new black pigmentation, improving skin color in the most natural way. This whitening Ex cream is suitable for night use, suitable for all skin types.
Expiry: new product, 03 years from manufacturing date
Packing: 1 box contains 50 ml net weight
Made in Korea by Dabo Cosmetic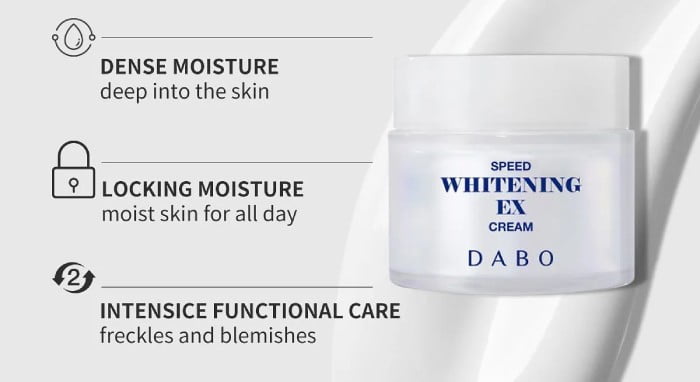 How to use Dabo Nigh cream?
Before going to bed, take an appropriate amount of the whitening Ex cream, then rub it evenly and gently pat the skin until it is completely absorbed. If the first use, should try 3-4 times on the neck skin below the ears, avoid applying to eyes, or open wounds.
Other information
Shipping: Europe: 10-21 days
United States, Canada, America: 15-30 days
Asia, Australia, and New Zealand: 12-25 days
Avoid storing the product in direct sunlight. Protect the product from excessive moisture.