Mosquito Repellent Lotion Soffell 60ml, anti-mosquito, and insect bites
Mosquito Repellent Lotion Soffell is an effective mosquito repellent for your family. It contains 13% DEET help to keep the mosquitoes and bugs away.
During World War II about in 1946,  scientists synthesized DEET (or N, N-diethyl-meta-toluamide) for the purpose of making anti-mosquito and insect bites. DEET has also been widely used since 1957. It is the chemical being used throughout the world for making anti-mosquito and blood-sucking insects.
Origin: Made in Vietnam by PT.Herlina Indah
Packing: 01 box x 60 ml Net Weight. Please select the fragrant from the variation
Exp: new product, 02 years from manufacturing date
Indications: Soffell is a mosquito repellent in the form of lotion. It uses to protect the body from mosquito bites on any occasion, such as when relaxing, watching TV, and sleeping. It has a long-lasting effect of up to 8 hours
Soffell protects the body from mosquito bites with protection that effectively lasts for approximately 8 hours. It offers double protections:
– To prevent mosquitoes with SOFFELL's aromas.
– To protect the body from mosquito bites by producing an unfavorable flavor for mosquitoes to bite.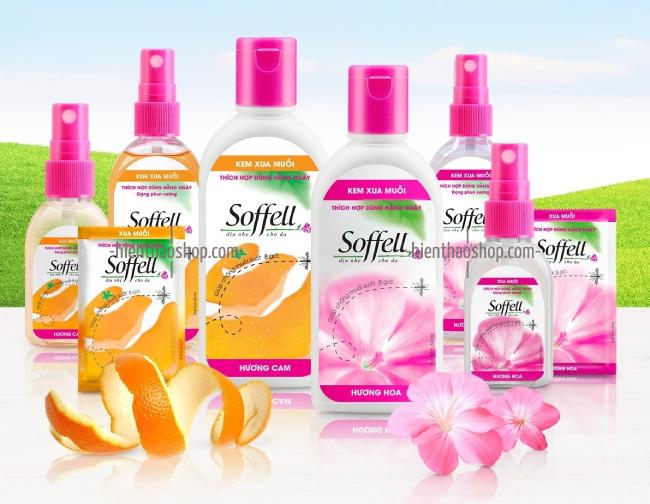 SOFFELL contains special moisturizers to keep the skin soft, with no burning sensations, and no stickiness when applied to the skin.
Ingredients: The main ingredient in SOFFELL is 13% DEET (DEET is a chemical, which helps cover up the smell of our sweat from mosquitoes. When the mosquito does not smell our sweat, it will fly away).
Soffell mosquito repellent direction
Gently massage Soffell on the face, neck, hand, or other places where mosquitoes can attack. We also can put it on the blanket, riddle.
Safety Information: For external use only. Keep away from eye or mouth contact. If swallowed, drink 2-4 glasses of water and consult a doctor. Discontinue use if it happened an allergic reaction. This product should not apply to children below 4-year-olds
Shipping: Europe: 10-21 days
United States, Canada, America: 15-30 days
Asia, Australia, New Zealand: 12-25 days
You may also like