GRINIF Pink Powder 40 grams, for Pimple, Remove Spot
GRINIF Pink Powder is a skin trouble spot care product with an excellent calming effect and skin clearing by a combination of a yellow liquid layer on the top and pink powder at the bottom.
Manufacturer: Grinif Cosmetic Pharma
Packaging: 40g net weight
EXP: new product, 24 months from the date of manufacturing
Safe with 4 Free Support: Parabens FREE, Phenoxyethanol FREE, Artificial fragrances FREE, and Artificial colors FREE
FEATURE: Guaranteed authentic from Korea, for all skin types.
How to use Grinif Pink Powder?
Do not shake it. Let the pink powder sink down.
Put the pink powder on a cotton swab.
Apply to the trouble spot.
Wash off with water after sleeping.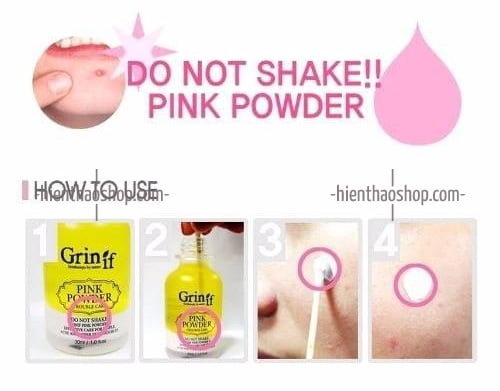 Use at the last step of skincare before sleeping. Don't rub it over with your hands, and go to sleep after it is fully dried. Check out the hypersensitivity reaction of the skin as you test it first if you use it for the first time. The skin became cleaner during the night
Shipping: Europe: 10-21 days
United States, Canada, America: 15-30 days
Asia, Australia, and New Zealand: 12-25 days
You may also like