Dabo Speed Whitening Cream 50ml tone up for a
quickly 
white skin 
Dabo Speed Whitening Cream 50ml has a faster speed of whitening skin. It is a combination of Collagen, Pearl Powder, and honey which help to improve and brighten the skin and stimulate the new regeneration of skin cells. This cream also provides the necessary moisture to soften and smooth the skin. It is suitable for all skin types, including sensitive skin, especially with dark skin types, melasma, freckles, dull pigmented skin …
Origin: Made in Korea by Dabo Cosmetic
EXP: a new product / 2 years from the manufacturing date
Package: Net weight 50 grams, each box can be used for 06 months
Ingredients of Dabo Speed Whitening Tone-up Cream
Tranexamic Acid: Disperses the formation and concentration of melanin, helps brighten skin, fades brown spots, and freckles, improves dark skin, and whitens skin with outstanding efficiency.
Collagen: helps to strengthen the regeneration of new collagen, replace old damaged collagen, improve skin structure, and increase elasticity to help smooth and firm skin.
Ascorbic Acid: supports collagen production to help replenish nutrients for the skin, helps the skin to be bright, anti-aging, and prevents the development of wrinkles.
Citric Acid: balances the skin's pH, outstandingly moisturizes with an improved formula, and nourishes pink and white skin after 1 time of use.
High sun protection SPF 47 PA +++ helps to block UVA & UVB rays to protect skin extremely effectively, the cream can raise 2-3 tones to bring natural white skin.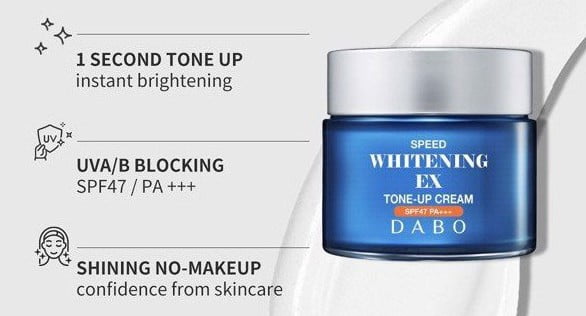 How to use this Dabo tone-up cream?
This Dabo cream is suitable for all skin types, you can use for all day or night. After toner and/or serum use, apply a small amount of the cream over the face and neck and avoid contact with the eyes and mouth. Apply for the face from chin to cheek two times a day and night.
Other information
Shipping: Europe: 10-25 days
United States, Canada, America: 15-30 days
Asia, Australia, and New Zealand: 12-25 days