Kyoman herbal pills reduce liver fat with Bergamot Extract
Kyoman herbal pills with Dioscorea Colettii extract and Bergamot (Citrus bergamia) extract. The product is an herbal product. It has the effect of reducing a fatty liver and lowering blood fat. It also helps increase the strength of arteries and reduces the risk of cardiovascular diseases, and cerebrovascular accidents caused by atherosclerosis.
Origin: Made in Vietnam by CVI pharma
Content: Box of 03 blisters x 10 soft capsules
EXP: 02 years from the manufacturing date
The main ingredients of Kyoman herbal pills
Bergamonte® is produced by extraction technology > 38% flavonoid polyphenols by Herbal & Antioxidant Derivatives Group, Italy. This flavonoid has been clinically proven to help maintain healthy cholesterol levels, and healthy blood sugar levels, increase HDL cholesterol, and promote healthy weight management. This material is US patented (US 8741362 B2)
Hesperidin is extracted from orange peel and Rutin from the flower of Styphnolobium Japonicum to strengthen the arteries, reducing the risk of atherosclerosis. Thereby, preventing complications related to the brain and heart.
Dioscorea Colettii is a plant from Moc Chau, Son La, Vietnam was discovered by Dr., Herbalist Nguyen Hoang (Former lecturer at Hanoi University of Pharmacy) in the 70s of the last century. Its effect is to help regulate heart rate, lower blood fat, and stabilize blood pressure. Dioscorea Colettii is recognized as a rare medicinal herb and is listed in the "Vietnam Red Book"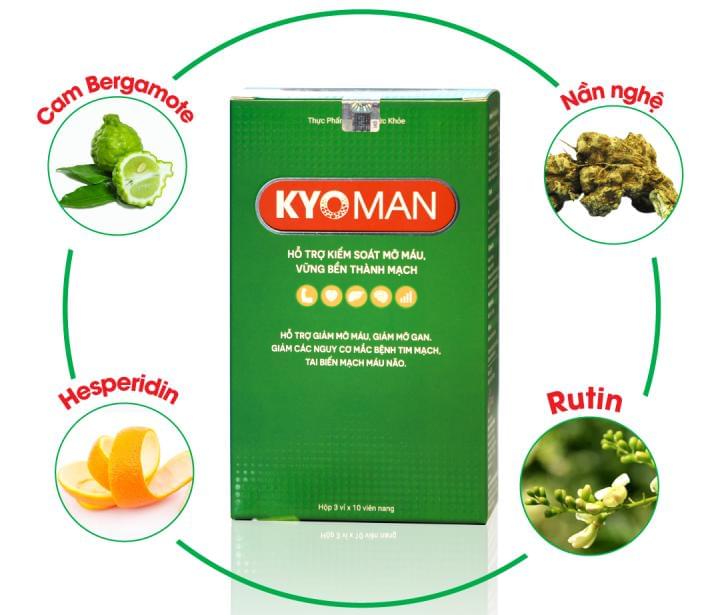 How to use this herbal supplement?
Enhanced dose: Take 4 tablets twice a day, morning and evening after meals to stabilize blood fat and sugar in the blood

Maintenance dose: 2 tablets a day, taken in the evening after meals to ensure

the indicators are always at a stable level, preventing complications.
Other related information
Shipping time to Europe: 10-21 days
United States, Canada, America: 15-30 days
Asia, Australia, and New Zealand: 12-25 days
Storage: Keep in a dry, cool place. Protect from light and high temperatures over 30 Celcius
Frequently bought together products