Vinaga Gac Oil Export, bigger size for the Adults
VINAGA Gac oil export is a special product of Vinaga Pharma. It is for the export market. A bottle contains 30 capsules, and a capsule is bigger in size.  Adults need to take only one capsule per day.
Expiry: 25th March 2024
Packing: 1 bottle x 30 capsules
Origin: Made in Vietnam by Vinaga
Ingredients of this product
PURE GAC OIL, containing Beta-carotene 80mg/100 grams (15.1 times higher than carrots), lycopene 35mg/100 grams(68 times higher than tomatoes).
Vitamin E (Alpha-tocopherol 10mg per 100grams) and other essential nutrients for the human body.
How to use Vinaga Gac oi export?
For micronutrient supplementation and health promotion: Each day take 1 capsule.
For mothers during pregnancy, to prevent vitamin, anemia, and micronutrient nutrition deficiency: Each day take 1 capsule.
Each day take 3 capsules or more as indicated doctor's
For skincare and prevention of skin problems for women: take 1 capsule daily or use on lips, or face-up in the evening daily.
Each course takes at least 40 to 60 days. Courses are separated by 7 days.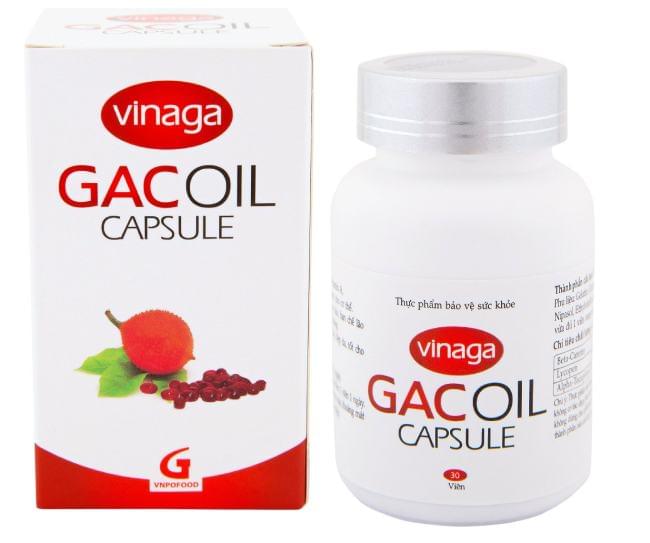 Indication Vinaga Gac Oil Capsules
VINAGA is a functional food to prevent dry eye, blurred vision, and nutritional anemia.
Increases resistance to infections.
Prevention of vitamin problems, and malnourished children, help children to develop their body and overall health.
Prevention of darkening skin problems, acne, dry skin, and rash. The effective skin care, and skin protection, help skin always rosy, fresh, and smooth. Prevention and reduction of hair loss.
Anti-aging and youth preservation
Prevention of DNA damage in cases of contaminated toxic dioxin or other cases using food contains the gain weight, plant protection drugs do not break out of the chemicals in the security of agricultural products…
Help lower blood cholesterol.
A number of U.S. studies published recently show that the compounds of beta-carotene, lycopene, Vitamin E … in Gac oil work to disable 75% of the carcinogens in general
Subjects using Vinaga gac oil tablets VINAGA Gac Oil capsules
Children: vitamin A supplementation, anti-rickets, malnutrition
Pupils and students: preventing myopia, bright eyes
Women: Beauty Skincare
The middle-aged group: increased resistance, anti-aging
Other product information
Storage: Keep in a dry, cool place. Protect from light and high temperatures over 30 C
Shipping: Europe: 10-21 days
United States, Canada, America: 15-30 days
Asia, Australia, New Zealand: 12-25 days
Frequently bought together