Nhat Diep Nguyen Huong Artichoke Tea, 4 packs x 150 grams
Nhat Diep Nguyen Huong Artichoke Tea is meticulously crafted from fresh artichoke leaves of excellent quality. We separate the leaves completely by hand immediately after being harvested. The selected leaves will go through Ladophar's chain to produce the perfect tea buds with flavor as well as health benefits. Especially, the entire processing process from harvest to finished product is only within 24 hours to ensure maximum nutrients and medicinal ingredients are retained.
We have to choose from 40kg of fresh leaves to make 10kg of leaves used as raw materials. From 10kg of raw leaves, 1kg of finished tea can be made. A cup of Nhat Diep Nguyen Huong tea contains the full natural fresh aroma and mildly sweet and bitter taste of Artichoke, bringing a great feeling of relaxation while supporting and enhancing liver and gallbladder function and improving digestion perfectly.
Origin: Made in France by Ladophar
Content: A box contains 04 packs x 150 grams
EXP: 02 years from the manufacturing date
Ingredients: 100% Artichoke Leaves
Who should use Nhat Diep Nguyen Huong Tea?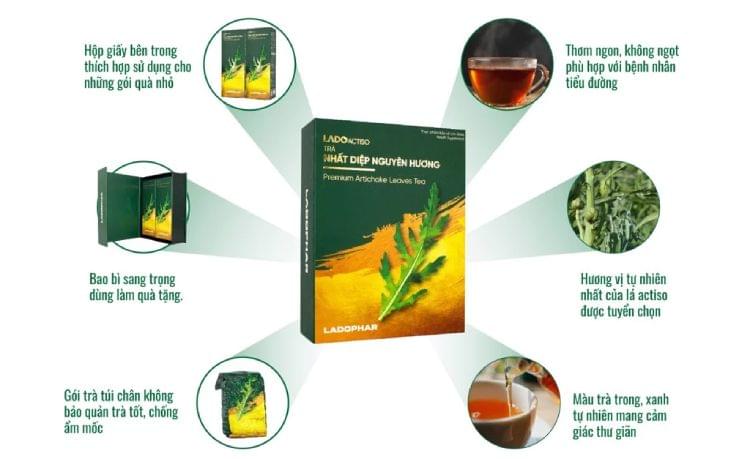 This tea helps to cool the liver, benefits bile, supports liver function, and improves digestion. So it can be used for people with liver failure, cirrhosis, elevated liver enzymes, or hepatitis. People with poor digestion, loss of appetite, jaundice, and fatigue due to poor liver function. And people who drink a lot of alcohol, are exposed to or use chemicals that are harmful to the liver.
How to use this Artichoke Tea?
Put about 5g of tea into the pot with about 250ml of boiling water, and wait for 2-3 minutes. It can be used many times by adding boiling water each time (depending on the taste). Use 5-10g / time x 2-3 times/day. Can use it daily instead of drinking water
Storage: Store in a dry place, below 30°C, away from direct light
Do not use it for people who are sensitive to any of the ingredients in the product. This food is not a medicine, not a substitute for medicine.
Shipping: Europe: 10-21 days
United States, Canada, America: 15-30 days
Asia, Australia, and New Zealand: 12-25 days
Frequently bought together products