Vietnam Gac Fruit Oil Extract, Momordica Cochinchinensis
Vietnam Gac Fruit Oil is a unique tropical fruit in Vietnam. It grows on dioecious vines and is usually collected from fence climbers or from wild plants. The fruit itself becomes a dark orange color upon ripening and is typically round or oblong. Its exterior skin is covered with small spines while its dark red interior consists of clusters of fleshy pulp and seeds.
Typical of orange-colored plant foods, Gac fruit contains a lot of carotenoids such as beta-carotene (provitamin A) and Lycopene. Gac aril oil contains high levels of vitamin E. Fatty acids in the aril oil may facilitate the absorption of fat-soluble nutrients, including carotenoids.
Origin: Made in Vietnam by Vinaga Pharma

Bottle content 100 soft gel capsules

EXP: 02 years from the manufacturing date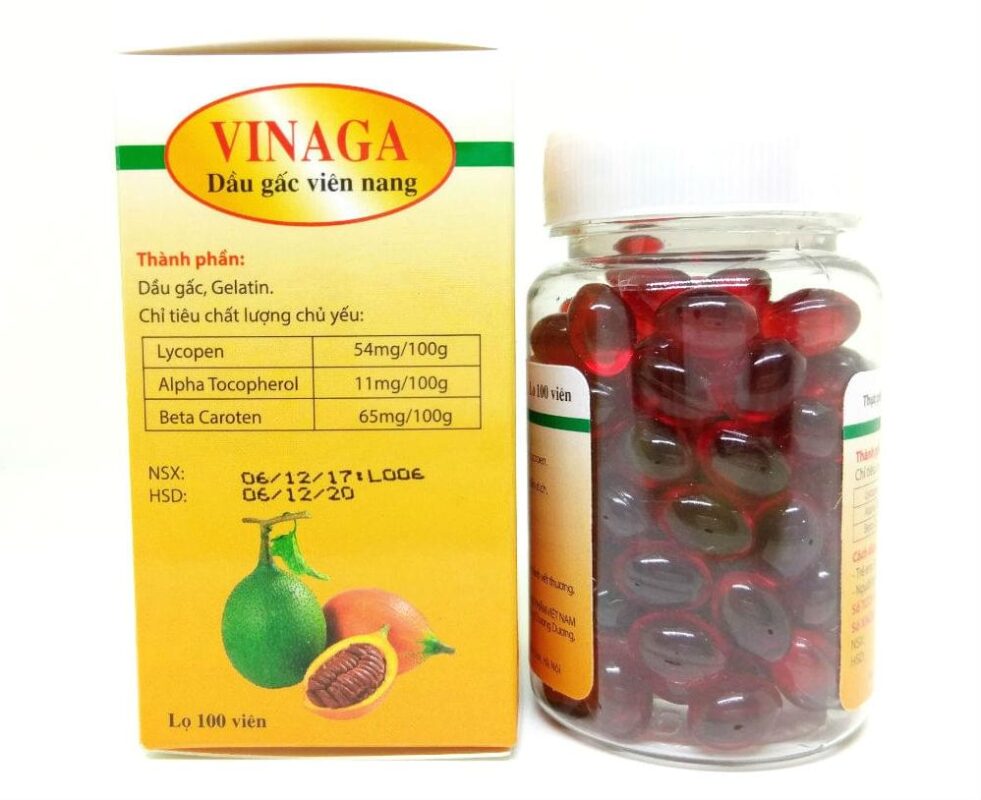 Details information of Gac Oil
VINAGA pure Gac oil extracts from Gac fruit in Vietnam. It prevents vitamin deficiency, increases immunity, the resistance of the body, antioxidants, anti-aging cells, removes the harmful effects of environmental chemicals, radiation… to help develop a healthy body, especially for children and women
Ingredient: Pure Gac oil, containing Beta-carotene 80mg/ 100g; Lycopene 35mg/ 100g (15.1 times higher than carrots and 68 times more than tomatoes …), Alphacotopherol 10mg/ 100g (pre-Vitamin E), many plant fats such as Oleic 14.4%; Linoleic 14.7%, Stearic 7.69%, Palmitic 33.38%… and other nutrients essential for the human body.

Indication: VINAGA is a functional food to enhance brain development, and vision in children, slow memory decline in older people. Prevention of dry eye, blurred vision, and nutritional anemia. Supply vitamins, help children and the elderly to develop their body and overall health.
Other benefits: Prevention and support of darkening skin, acne, dry skin, rash. Effective in skincare, skin protection, helps skin always be rosy, fresh, and smooth. Prevention and reduction of hair loss.


Increases resistance to infections. Anti-aging and youth preservation




Prevention and support of DNA damage in cases of contaminated toxic dioxin or other cases using food contain gain weight, plant protection drugs do not break out, or the chemicals in the security of agricultural products… Patients after surgery, radiation, chemicals, steroids … Gac oil helps to quickly restore health and prevent the risk of body problems, help lower blood cholesterol.
How to Use Vietnam Gac Fruit Oil Extract?
Micronutrient supplementation, health promotion: Each day take 2 to 4 capsules.
– Infants (from the fourth month) to prevent naturally vitamin A deficiency, cure dry eyes, infection prevention: put Gac oil into milk, flour, porridge: Every day take 1 to 2 capsules.
– Mothers during pregnancy, to prevent vitamin, anemia, and micronutrient nutrition deficiency: Each day take 2 to 4 capsules.
For skincare, prevention of skin issues for women: take 4 capsules daily or use on lips, face-up in the evening daily.
Each course takes at least 40 to 60 days. Each course is separated by 7 days.
Shipping: Europe: 10-21 days




United States, Canada, America: 15-30 days




Asia, Australia, New Zealand: 12-25 days
You may also like