Decumar Anti-Acne Sunscreen, Set of 02 tubes x 50 grams
Decumar Anti-Acne Sunscreen applies Aminovector technology and microbial fermentation technology. The product helps to create a thin but strong protective barrier, is not greasy, and does not clog pores (the culprit that causes acne) to protect acne-prone skin from the harmful effects of the sun and fine dust in the air.
Origin: Made in Vietnam by CVI pharma
Content: 02 tubes contain 50 grams net weight. Total 100 grams
EXP: 02 years from the manufacturing date
Product features of Decumar Anti-Acne Sunscreen
SPF 50: Protects your skin for 500 minutes, blocking about 98% of harmful effects from UVB rays.
PA++++: Has very good UVA protection, over 95%.
Ingredients are benign and have the ability to absorb quickly.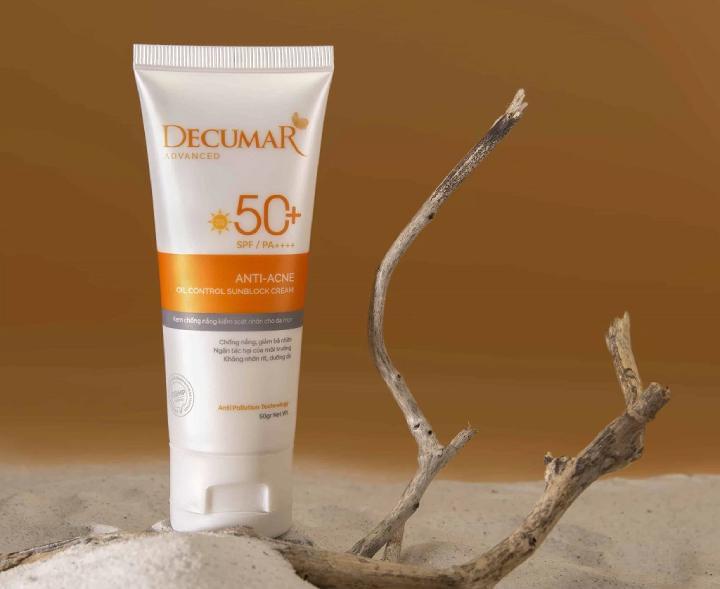 The main ingredient of this sunscreen
This product formula creates a thin, light film that is quickly absorbed and possesses strong sun protection
Nano THC: Super transparent, antibacterial, anti-acne nanotechnology
Backhousia Citriodora Leaves: Oil-control, anti-oxidant, keep skin even, bright all day long
Fluidipure 8G: uses Amino Vector technology to help purify and nourish the skin
EXO-P™ (Alteromonas ferment): fermented from deep-sea creatures, protects skin against UV rays, and environmental pollution including fine dust.
How to use this product?
Use daily, after skincare products and before makeup products. Wash your face, take an appropriate amount of cream, and apply evenly on the face and neck (only need 1 thin layer). Then, gently pat the cream to absorb into the skin faster.
Note: In addition to applying sunscreen, it is necessary to combine other shielding methods such as a shirt, sunglasses, and mask. For acne-prone skin, use in combination with Decumar Anti-Acne Cleansing Gel and Nano Curcumin Anti-Acne Gel to achieve the highest efficiency.
Other product information
Storage: Store in a dry place, below 30°C, away from direct light
Shipping: Europe: 10-21 days
United States, Canada, America: 15-30 days
Asia, Australia, New Zealand: 12-25 days
Frequently bought together products