Thorakao Pearl Ginseng Cream, Whitening Cream, Anti-Freckles
Thorakao Pearl Ginseng Cream is specially produced from ginseng extract, and pearl powder in combination with extracts from other various natural herbs. The cream contains a lot of amino acids and vitamins A, D, and E which help recreate the skin, turning stunted skin into a fair, smooth one.
The main function of this cream is to treat pimples, dark spots, and freckles. It makes your skin fairer when putting on makeup, and protects your skin from UV rays from sunlight.
Origin: Made in Vietnam by Thorakao Cosmetic Co., Ltd
Packing: 01 box x 07 grams Net Weight
EXP: new product, 02 years from manufacturing date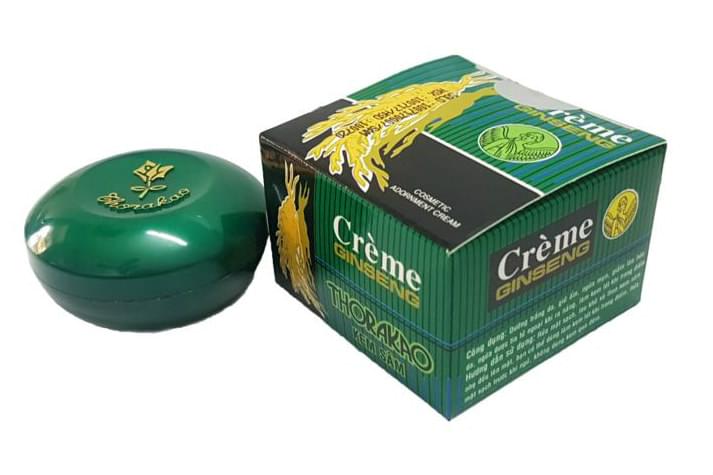 Thorakao (LanHao) is one of the best cosmetic manufacturers in Vietnam for 50 years. They do research on the pharmaceutical properties of vegetation and animals, then extract and apply them to the production of cosmetics in order to enhance the natural beauty of women with very little use of chemicals.
Indication: Anti-Freckles, Dark Spot, Blackhead Removal, Whitening Skin
Formula: Panax Vietnamese, Araliaceac-Root Extract, Vaseline, Kaolin, Isopropyl palmitate, Lanolin, Arbutin, Allantoin, Titanium Dioxide, Paraffinum Liquidum, Olive Oil Esters, Behenyl Beeswax, Whitening wax, Pearl Extract, Benzophenone-3, Silanediol Salicylate, Nylon-2, Silica, Propylparaben, Fragrance.
How to use this cream?
Put a small amount of THORAKAO PEARL GINSENG CREAM on your fingers and gently massage your face and neck. 

Wash your face before going to bed. Don't leave the cream on your face overnight. It can be used as a makeup-based cream.

Shipping: Europe: 10-21 days
United States, Canada, America: 15-30 days
Asia, Australia, New Zealand: 12-25 days
Frequently bought together