Facial Mask Thai Duong Tay Thi 02 Tubes x 50 Grams
Facial Mask Thai Duong Tay Thi uses to eliminate blackheads, dead cells, rough skin, skin pigmentation, and tattoos. It is specially formulated from medicinal powders: Ginseng (smooth skin, anti-wrinkle), Winter melon (whitening skin), Peach blossom (skin pink, anti-pigmentation, anti-acne), Glycerin (moisturizing skin).
It quickly cools and softens the skin, and enhances circulation under the skin to make it white, bright, and naturally smooth.
Origin: Made in Vietnam by Thai Duong Pharma
Expiry: new product, 02 years from manufacturing date
Packaging: 02 Tubes x 50 grams Net Weight. Sold as a set
Ingredients: High-quality skincare mask is specially formulated from pure herbal powder: Ginseng (smooth skin, anti-wrinkle), zucchini (whitening), Cherry ( against pigmentation, and acne ), Glycerin (skin moisture) …  to help the skin soft and enhance the circulation to help the skin bright white, natural.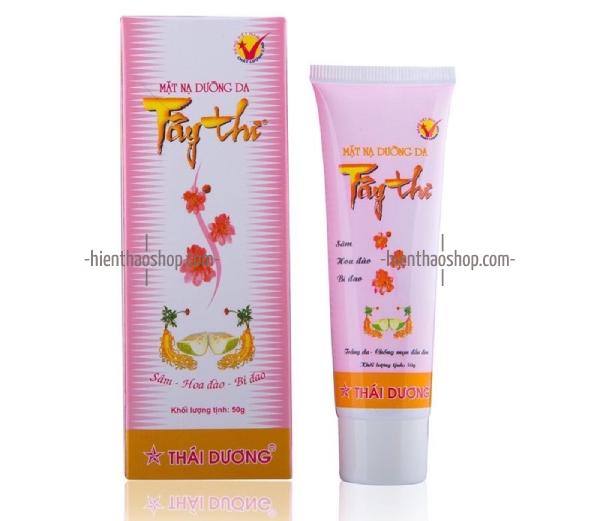 How to use 
this
Facial Mask?
Wash the skin, and apply a mask layer of about 1 mm on the face and neck skin. Keeping it for at least 30 minutes to 01 hour. Preferably in the evening before going to sleep.
Shipping: Europe: 10-21 days
United States, Canada, America: 15-30 days
Asia, Australia, and New Zealand: 12-25 days
You may also like