Golden Star Inhaler For Rhinitis Sinusitis Congestion Bronchitis 
Golden Star Inhaler is the product of Danapha pharma. It uses for relieving some common issues such as rhinitis, sinusitis, congestion, bronchitis, and flu. Golden Star Inhaler action is a local analgesic, antiseptic, anti-inflammatory, decongestant.
Origin: Made in Vietnam by Danapha pharma
Package: 1 bottle 1.5g
EXP: 2021 or later / 5 years from manufacture date
It contains all of the herbal extracts:
Cajeput oil: 0.065g
Ocimum oil: 0.005 mg
Cinnamon oil: 0.006 g
Paraffin oil: 0.184 g
Menthol: 0.658 g
Camphor: 0.124 g
Peppermint oil: 0.258 g
Contraindication: Allergic to the composition of the drug, Children < 2 years. The product has no side effects which has been reported.
Dosage of the Golden Star Inhaler
There is not any toxic although use overdose, however, please use a maximum Inhaler 10 – 15 times a day, should not to used many times at the same time.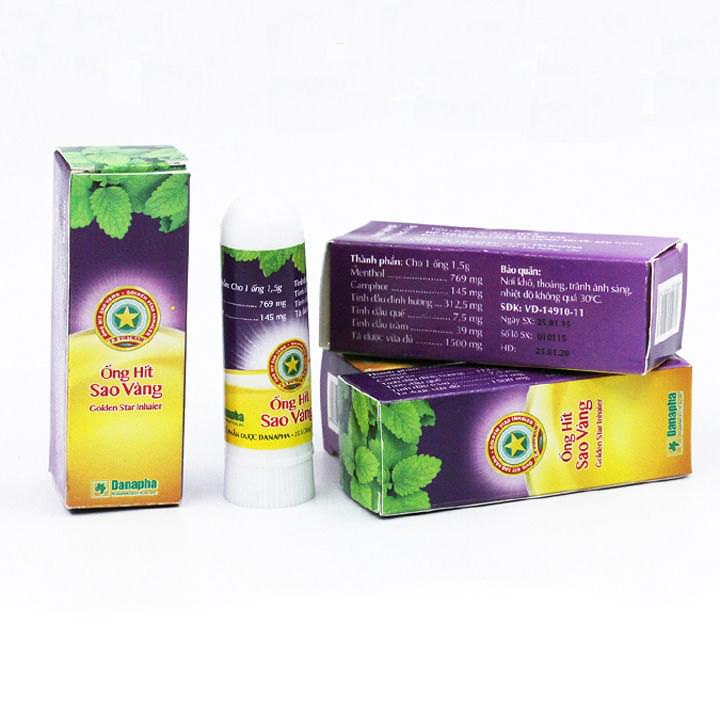 Storage: Store in a cool and dry place. Protect from high temperature
Shipping: Europe: 10-21 days
United States, Canada, America: 15-30 days
Asia, Australia, New Zealand: 12-25 days