Acnes Mentholatum Anti-Scar Care 12 grams
Acnes Mentholatum Anti-Scar Care Turmeric Extract maintains essential skin moisture and improves skin complexion. It helps clear Acne, Blemishes, and Scars. This product is safe and effective for skincare
Origin: Made in Vietnam by Rohto Mentholatum
Expiry: 02 years from manufacturing date
Packing: Net weight 01 Tube of 12 grams.
Ingredients: Water, Alcohol, Butylene Glycol, Glycerin, PEG-40 Hydrogenated Castor Oil, Ascorbic Acid 2-Glucoside, Triethanolamine, Carbomer, Tocopheryl Acetate, Propylene Glycol Alginate, BHT, Cetrimonium Bromide, Allantoin, Disodium EDTA, Isopropylmethylphenol, Pyridoxine HCl, Salicylic Acid, Methylparaben, Fragrance, Daucus Carota Sativa Root Extract, Butylene Glycol, Phenoxyethanol, Sodium Starch Octenylsuccinate, Maltodextrin, Caprylic/Capric Triglyceride, Helianthus Annuus Seed Oil, Beta-Carotene, Tocopherol, Citric Acid, Ascorbyl Palmitate, Potassium Sorbate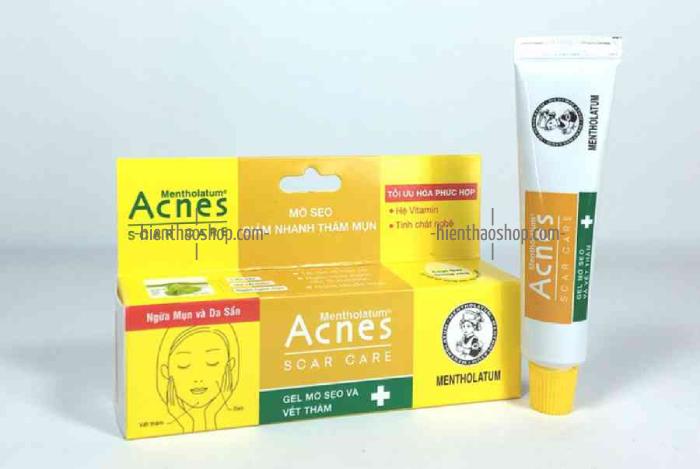 Dosage and how to use 
this product?
Gently apply the Acnes Scar Care to affected areas at least 2 to 3 times daily. This product can be used in conjunction with daily makeup. With continuous and recommended usage, the appearance of acne scars will be less visible within 4 weeks.
Caution: Keep out of reach of children. Do not apply it to the eye
Do not use on irritated or infected skin e.g. Active acne, rosacea, eczema, etc
Should only be used on scars that have fully healed
Acnes Mentholatum Anti-Scar Care for external use only
Storage: Keep in a dry, cool place.
Shipping: Europe: 10-21 days
United States, Canada, America: 15-30 days
Asia, Australia, New Zealand: 12-25 days
You might also like