Mentholatum VRohto DryEye Eye Drops, For DRY, Strain, Blurry
Mentholatum VRohto DryEye for artificial tears, and provides moisture for dry eye, strained eye, and blurry eye (from eye discharge), and reduces discomfort from using contact lenses.
Origin: Made in Vietnam by V.rohto Japan
Expiry: new product, 24 months from the date of manufacturing
Packing: 01 bottle x 13ml Net. Gross weight 80 grams/ box.
Composition: 78.0mg Hydroxyethylcellulose / Sodium Chondroitin Sulfate.
Dosage: 3-4 times a day, each time 1-2 drops each eye. Can use more if necessary.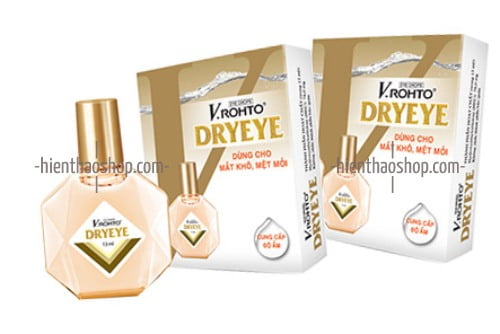 Warnings: Do not touch the tip of the container to any surface to avoid contamination. Replace the cap after each use.
Do not use it if the solution changes color or becomes cloudy. Overuse may cause more eye redness. Pupils may become enlarged temporarily. Remove contact lenses before using them. Wait 15 minutes before inserting contact lenses after use.
Do not use it if you have hypertonia oculi, sensitive to the ingredients.
If pregnant or breastfeeding ask a health professional before use.
Shipping: Europe: 10-21 days
United States, Canada, America: 15-30 days
Asia, Australia, New Zealand: 12-25 days
You may also like