Crila Crinum Latifolium for Prostate Ovarian Support
Crila Crinum Latifolium is a natural, safe, and effective herbal supplement recommended as a daily regimen to support, promote and maintain prostate ovarian issues. It is extracted from Vietnamese herbs and derived from the Crinum Latifolium plant. The product has the effect of supporting growth reduction for uterine fibroids and benign prostatic hypertrophy in men.
CRILA was born from the research work on Crinum Latifolium L. by Dr., Professor Nguyen Thi Ngoc Tram and colleagues. Now it is recognized as a new plant variety with the scientific name Crila (Crinum latifolium L. var. crilae Tram & Khanh).
Crila Crinum Latifolium benefits
Crila reduced the symptoms of benign prostate hyperplasia problems and fibroid uterus. The product is completely extracted from the leaves of Crinum latifolium and has been thoroughly researched, so there are no side effects for users. This product is one of the most effective medicinal herbs for prostate, uterine and ovarian health in Vietnam.
Packing: 1 bottle x 40 capsules.
Origin: Made in Vietnam by Thien Duoc Pharma
Expiry: new product, 02 years from manufacturing date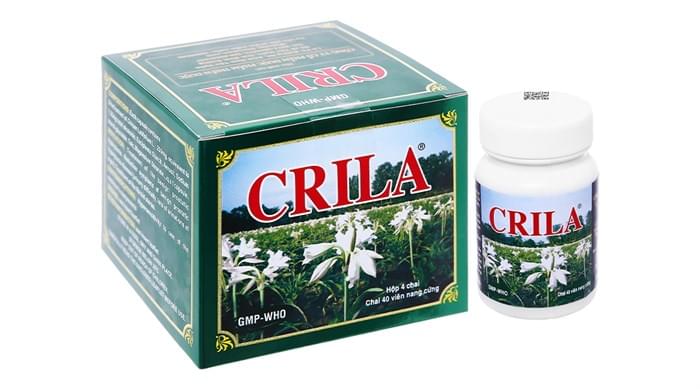 The composition of each capsule: 250mg dried extract of Crinum Latifolium, equivalent to 1.25mg total alkaloids. Starch, aerosol, sodium starch glycolate, talc, magnesium stearate
How to use this product?
Benign prostatic hyperplasia: Take 4 capsules, two times daily after meals. The usual use of Crila for 8 weeks.
Fibroid uterus: Take 5 capsules, two times daily after meals. Usually, use the Crila for 9 weeks.
Undesirable effects: Slight dizziness and indigestion may occur for some days
Frequently asked questions of Crila product
Does the use of CRILA have any effect on cardiovascular – blood pressure – sexual performance?
Crila capsules do not affect cardiovascular performance and blood pressure. It does not affect the cardiovascular activity and blood pressure, safe for users.
For those who have had surgery to remove the tumor, how to prevent recurrence?
Prevention of uterine fibroids, ovarian cysts, breast tumors, benign prostatic hypertrophy, and other tumors from returning is essential because the tumor can still grow after surgery. Therefore, after recovering from the disease, it is still recommended to use Crila capsules, with a dose of 4 tablets per day, divided into 2 times to prevent disease.
What are the important notes when using the product?
For uterine fibroids, the dose of Crila is 10 tablets per day, divided into 2 times. You need to avoid drinking alcohol while taking Crila. If you have other diseases, you need to take the medicine, you need to take it at least 3 hours away from the Crila tablet. Should drink natural smoothies or juices such as avocado, watermelon, papaya smoothie, orange juice, and tapioca powder to help with good digestion. Please do not use Crinum Latifolium for pregnant women and keep it out of reach of children.
Other related information
Shipping: Europe: 10-25 days
United States, Canada, America: 15-30 days
Asia, Australia, and New Zealand: 12-25 days
Frequently bought together