Sanyrene Urgo anti-ulcer spray prevents of ulcers, skin erythema
Sanyrene Urgo anti-ulcer spray helps in the prevention of ulcers, erythema, prevention and treatment of dry and dehydrated skin, weak, fragile skin caused by wet conditions and poor nutrition (e.g. the skin around the sores) , dry and scaly venous ulcer disease).
Expiry: new product, 02 years from manufacturing date
Packing: 1 bottle contains 20ml ml net weight
Made in France by Urgo
Composition and outstanding features
Glycerol has a high oxidation state of essential fatty acids (including linoleic acid 60%, tocopherol (Vitamin E) 99%, anise perfume 1%.
Sanyrene restores the hydrolipid layer that protects the skin and promotes the regeneration of the epidermal cell layer, thereby helping to strengthen, soothe and protect damaged skin. Using Sanyrene helps the massage process to be gentle, painless.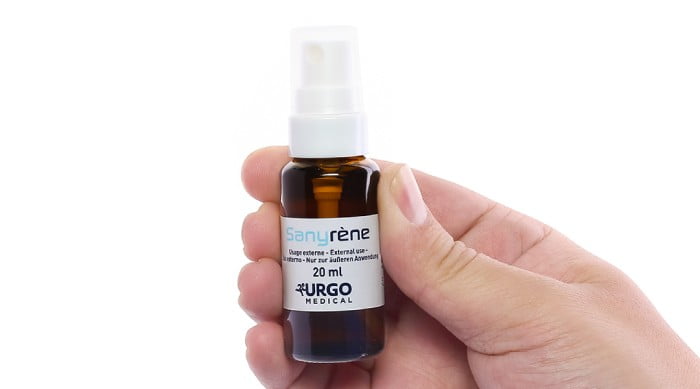 Instructions for use of the product
Do not use Sanyrene to prevent from using other treatments or prevention methods for pressure ulcers.
Sanyrene should be used as soon as there is a risk of developing pressure ulcers, when there is an erythematous whiteness of the pressure, or when any of the indications listed above are present.
Spray Sanyrene on the skin at risk, gently massage with fingertips for 1 minute. Use 3-4 times a day on each skin at risk.
Other product information
Shipping: Europe: 10-21 days
United States, Canada, America: 15-30 days
Asia, Australia, New Zealand: 12-25 days
Frequently bought together