Junyfuns Herbal Patch Motion Sickness Prevent Vomiting, Nausea
Junyfuns Herbal Patch Motion Sickness to prevent Vomiting, Nausea, Dizziness, Anorexia, and other symptoms resulting from the sickness of cars, ships, airplanes, trains, and other means of transport.
Origin: Made in Vietnam by Thien Phuc Pharma
Expiry: new product, 24 months from the date of manufacturing
Packing: 05 patches in a box, Gross weight 19 grams/ box.
Composition: Natri polyacrylate, Glycerin, Aluminium, Glycinate, Datura Flower, Methol, Zingber oil, Benzoic acid
Instruction for Use Junyfuns Herbal Patch
Tear the protective layer of the patch, and apply the adhesive layer to the navel or the back of your ears. Use 1-2 hours before travel, remove after 4-6 hours. The effect of the patch will last up to 72 hours.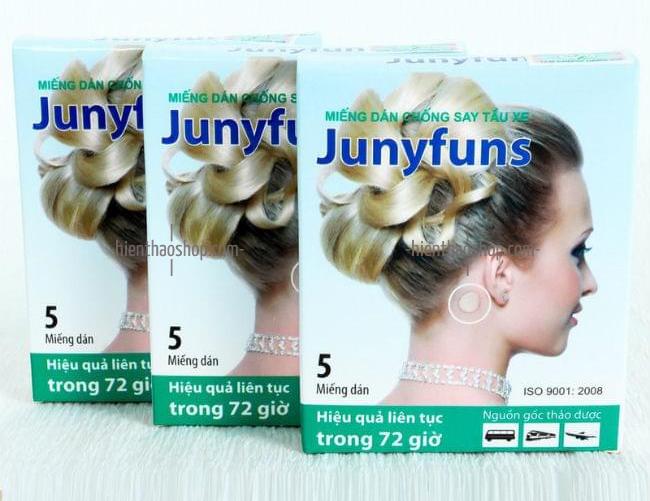 Dosage: Adult: 01 -02 Patch / 72 hours. For children from 8-15 years old and adult who has a weight lower than 40 kg: 01 patch / 72 hours
If traveling more than 03 days, need to change new patch and change to another ear (not the same ear). Please do not use OVERDOSE
Contraindication: Do not use for pregnant, Children under 08 years old, or with open wounds
Warning: Be careful when using for Old People, Liver & Kidney People. Do not use Alcohol
Shipping: Europe: 10-21 days
United States, Canada, America: 15-30 days
Asia, Australia, New Zealand: 12-25 days
You may also like