V.Rohto Cool Eye Drops Hisamitsu 12ml
V.Rohto Cool Eye Drops feature a super cooling refreshing sensation, effective in refreshing tired eyes and preventing ultraviolet of outdoor activities
Origin: Made in Vietnam by V.Rohto Japan
Expiry: newest product, 02 years from manufacturing date
Packing: 01 bottle x 12ml Net, Gross weight 80 grams/ box.
Indications: For eyestrain, eye problems prevention (after swimming, or when sweat or dust gets in your eye.
ophthalmitis caused by ultraviolet rays or other rays, discomfort when wearing the hard lens,
conjunctiva hyperemia, the itch of eyes, blepharitis (inflammation of eyelids), haze (time with much eye mucus) of eyes.
Composition:
12,0mg Pyridoxine Hydrochloride (Vitamin B)
120mg Potassium L-Aspartate
3,6mg Chlorpheniramine Maleate
24,0mg Allantoin
6,0mg Tetrahydrozolin Hydrochloride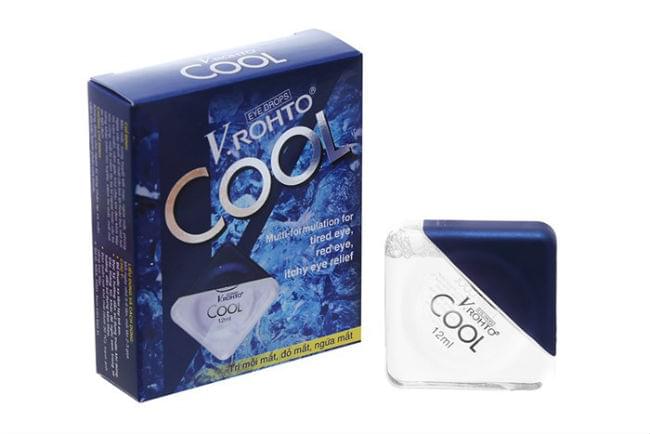 How to use the Eye Drops
Put 2-3 drops in the affected eyes up to 5 times daily.
Warning:
Do not touch the tip of the container to any surface to avoid contamination.
Replace the cap after each use.
Do not use if the solution changes color or becomes cloudy.
Overuse may cause more eye redness.
Pupils may become enlarged temporarily.
Remove contact lenses before use.
Wait 15 minutes before inserting contact lenses after use.
Ask a doctor before use if you have narrow-angle glaucoma.
If pregnant or breastfeeding, ask a health professional before use.
Shipping: Europe: 10-21 days
United States, Canada, America: 15-30 days
Asia, Australia, New Zealand: 12-25 days
Frequently bought together