Lycee VRohto Eye Drops Relieve Red, Itchy, Tired Eyes Relief
Lycee VRohto Eye Drops is an eye drop that contains ingredients that are good for girls! This eye drop contains corneal ingredients (Chondroitin sulfate Natrium), and moisture ingredient (HEC), and it can be used smoothly anywhere anytime because the nozzle is designed 'free-angle nozzle'.
Lycee eye drops can be used for all types of contact lenses, and they can temporarily relieve discomfort due to minor irritations of the eye or exposure to wind or sun. In addition, this eye drop works as a protection against further irritation or to relieve dryness of the eye! The eye drop does not have any coloring agent, the pink color liquid is due to the Vitamin B12 contained in this eye drop!
Origin: Made in Vietnam by Rohto Mentholatum
Expiry: 02 years from the manufacturing date
Packing: 01 bottle x 13ml, Gross weight 33 grams/ box.
Ingredients of Lycee V.Rohto Eye Drops : Sodium Chondroitin Sulfate 0.5%; Potassium Chloride 0.08%; Sodium Chloride 0.44%; Sodium Bicarbonate 0.05%; Hydroxyethylcellulose 0.02%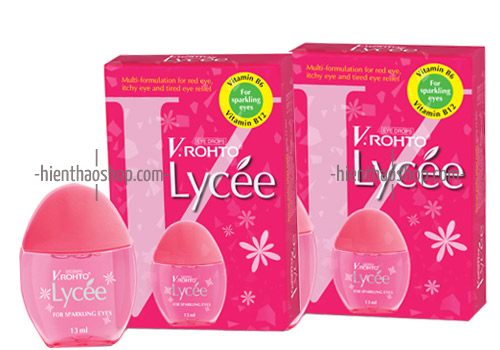 Other information to use Lycee eye drops
Dosage: Put 2-3 drops in the affected eyes up to 5 times daily.
Do not touch the tip of the container on any surface to avoid contamination. Replace the cap after each use. Do not use if the solution changes color or becomes cloudy. Overuse may cause more eye redness.
Pupils may become enlarged temporarily. Remove contact lenses before use. Wait 15 minutes before inserting contact lenses after use. Ask a doctor before use if you have narrow-angle glaucoma. If pregnant or breastfeeding, ask a health professional before use.
Shipping: Europe: 10-21 days
United States, Canada, America: 15-30 days
Asia, Australia, and New Zealand: 12-25 days
You may also like