What is the Vietnam Golden Star Balm?
Vietnam Golden Star Balm or Cao Sao Vang is a popular medicated balm in Vietnam. It is very useful to relieve colds, headaches, runny nose, flu, dizziness, motion sickness, rheumatism, migraines, and aching joints. The material of the balsam is natural essential oils from eucalyptus, peppermint, clove, cinnamon, and some other Asian medicinal plants.
The History of Vietnam Golden Star Balm.
During the war against France and the years after 1954, Vietnam has the only common medicated balm, called White Tiger Balm. After 1954, North Vietnam started to rebuild the health care system. The state-owned pharmaceutical companies have encouraged and accelerated the production of medicines from the traditional medicinal ingredients which are available in the country.
Being a well-known product, Golden Star Balm was one of the products that have been researched for mass production. Research and production at that time were not easy. Until about 1968-1969, after such a long period of research and development. Golden Star Balm has been produced in large quantities. The product is considered stable in quality with durability under various weather conditions, with the trade name in Vietnamese Cao Sao Vang
After launching the product, Golden Star Balm was widely used in northern Vietnam. With the warm effect, many Vietnamese people on business trips to the Eastern European country took along this balm to use or to present as a gift. Hence, the Golden Star Balm has been known by many Eastern European people.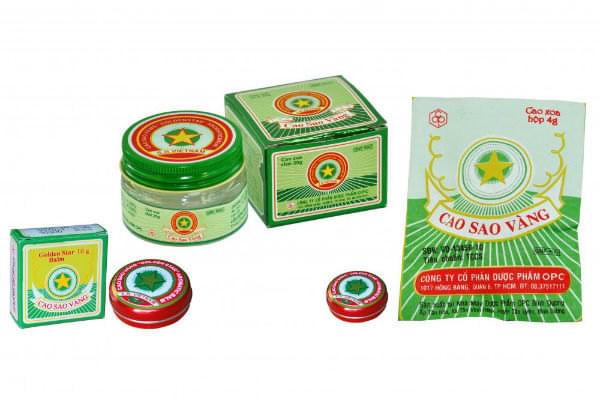 After 1975, Vietnam and the Soviet Union increased trading activities. Cao Sao Vang was one of the famous exported items to the Soviet Union. Every year, about 10-20 million boxes have been exported.
Unfortunately, the export period to the Soviet Union has ended, leading the consumption of the Gold Star Balm to decrease. Also, there were many pharmaceutical companies producing Cao Sao Vang. However, only a few firms keep stable quantities.
Until the period of 2013 to 2017, Golden Star Balm is referred to as a good product to sell on the international B&C or C&C market. It could be found easily on eBay, Amazon, Aliexpress, or some of the e-commerce websites such as www.hienthaoshop.com
A few tips to use Vietnam Golden Star Balm.
Cao Sao Vang is very useful for the treatment of colds, dry coughs, hard breath, rheumatism, migraines, and aching joints.
If you have a headache: or seasickness

during the trip

, you can rub a very small amount of balm below the nose, on the forehead, and neck. After using, please clean your hands before touching your eyes (may burn much).

A hard breath: In the boiling water, add a bit of balm, and you can make better inhalation when breathing.

A dry cough: In the case of no inflammation, use a small amount to rub on the neck and sole of the foot. Keep warm with socks for a few hours. Try not to use it too much and too many times.

Insect Bite: To prevent insect bites (mosquito, ant..) you can use a small amount to rub on your hand and your legs. The scent of balm will keep bugs away. If you are stung by an ant or mosquito, use a litter amount to rub on the place where the insect bites. It will relieve the itching
Above is general information about the history of Golden Star Balm and how to use the product. We sincerely thank you for taking the time to read this article. We wish you all a really good and happy day!
Hien Thao Shop – Vietnam Online Shop!