White Tiger Balm Vietnam Uses for Back Pain, Muscle Pain Relief
White Tiger Balm Vietnam uses for common cold symptoms like a runny nose, cough, sore throat, and bronchial. Also, Vietnam Tiger Balm is a very useful balm for relieving pains in muscles and joints, rheumatic problems and osteoarthritis, neuralgia, sciatica, lumbago, disc and back pain, muscle tension, such as neck stiffness
Additionally, It is used for relieving the pain from sports injuries such as sprains, and bruises. In connection with sports massage and the itching from insect bites.
Origin: Made in Vietnam by Bao Linh Pharma
EXP: new product, 02 years from manufacturing date
Packing: Net weight 20g in Jar
Composition: Menthol: 1.6 g, Clove, essential oil: 10.4 g, Peppermint oil: 2.18 g, Eucalyptol: 0.98 g, Camphor: 3.18 g,  Methyl salicylate: 4.0 g, Cinnamon, and essential oil: 0.3 g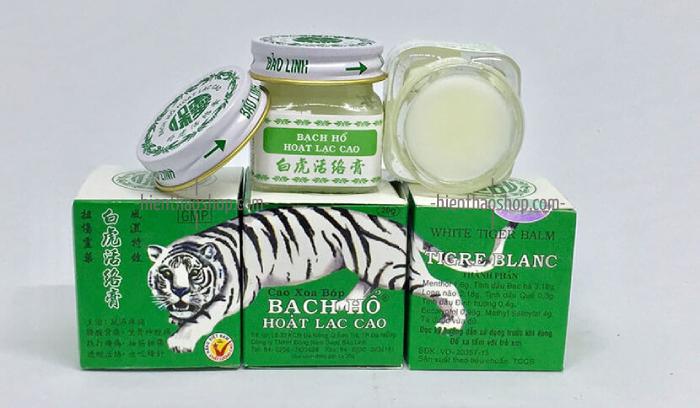 Application of White Tiger Balm Vietnam
The affected areas should be treated 2 to 4 times daily. Apply the balm always thinly and, for at least 5 minutes, lightly massage.  Avoid accidental contact with mucous membranes, eyes, and open skin.
The application time depends on the progression of the symptom. Without medical advice, you should no longer use Tiger Balm over 10-14 days. Do not use in children under 5 years
Nature and duration of application: When having a bronchial cough, and the morning and evening, rub balm on the chest and back. Keeping up with air-permeable wool or cotton cloth warm. No airtight bandage.
For muscle and joint pain, aching bodies, and insect bites. Please use the Tiger balm to massage. Warming the affected areas with air-permeable wool or cotton cloth.
Eyes and mucous membranes should be protected from the balm. The hands after each time use, wash with warm water.
Shipping: Europe: 10-21 days
United States, Canada, America: 15-30 days
Asia, Australia, and New Zealand: 12-25 days
Frequently bought together