Heposal liver detoxification supports liver function
Heposal liver detoxification tonic with standardized extracts from precious medicinal herbs Zanthoxylum Avicenna and Phosphocomplex creates 4 effects: Supports lowering liver enzymes, protects and restores liver cells, Detoxifies the liver in cases of liver toxicity caused by alcohol, hepatitis virus, fatty liver, reduces the risk of cirrhosis.
Origin: Made in Vietnam by CVI pharma
Content: Box of 30 soft capsules
EXP: 02 years from the manufacturing date
How to use Heposal liver detoxification?
Adults take 2-4 tablets per day. Children take half the adult dose. Use 30 minutes – 1 hour after meals. The product is suitable for all ages, including pregnant women, postpartum women, and children.
Ingredient of Heposal product
PYBBE (Zanthoxylum Avicenna Extract) 450mg. Phosphocomplex 25mg. Talc, magnesium stearate just enough for 1 tablet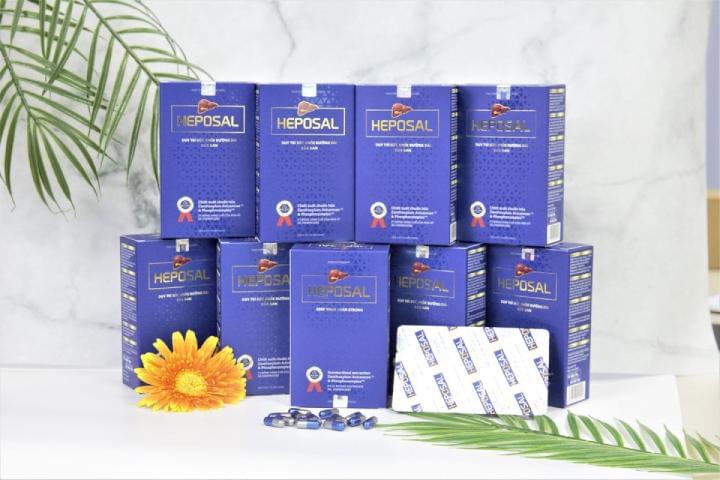 Main uses of the product
– Lowering liver enzymes, helping to reverse AST, and ALT liver enzymes to stable levels.
– Stabilize and inhibit viral hepatitis. Prevent formation and restrain the development of cirrhosis.
– Support to reverse fatty liver, and limit the risk of atherosclerosis. Inhibits proliferation and assists in killing HA22T cells through the mechanism of PP2A protein activation.
– Reduce symptoms such as yellow skin, yellow eyes, pain in the lower ribs, yellow urine, loss of appetite, and insomnia.
Other product information
Note: This functional food is not a medicine, it does not have the effect of replacing medicine.
Storage: Store in a dry place, below 30°C, away from direct light
Shipping: Europe: 10-21 days
United States, Canada, America: 15-30 days
Asia, Australia, and New Zealand: 12-25 days
Frequently bought together products