Amway milk thistle dandelion supports the weak liver, liver dysfunction
Amway milk thistle dandelion contains a blend of 3 exclusive herbs: Milk Thistle (hemp), Dandelion Root, and Turmeric. There is also a mixture of Silybin, Acerola lyophilized powder, and Citrus Bioflavonoid.
It uses for weak liver, liver dysfunction caused by acute and chronic hepatitis (hepatitis B), cirrhosis, fatty liver leading to allergy, itching, urticaria, jaundice, atherosclerosis, clear fat high blood.
Origin: Made in Vietnam by Amway factory
Package: Each box contains 60 capsules
Expiration: in late 2022 or later.
Please Note: This product is made by Amway Vietnam, so there is only Vietnamese text on the product. We will send to you the translation letter along with the package. But please consider it before purchase
The role of the liver in the body: The liver plays an important role in maintaining our health. The liver nourishes each cell, purifies each toxin, stores energy, and participates in the metabolism of nutrients.
Reference for you: Liver – Anatomy and Functions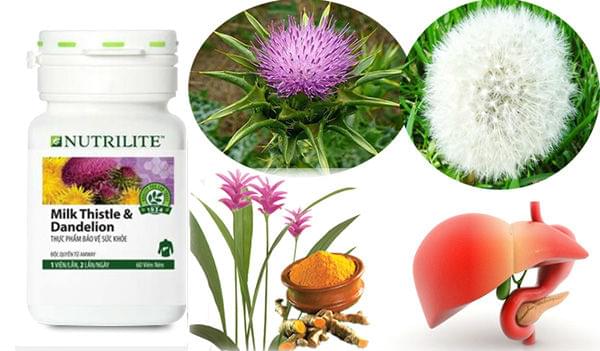 Liver protection product Amway Nutrilite Milk Thistle Dandelion helps strengthen the liver, protect the liver, lower liver enzymes, enhance liver metabolic function, protect and restore liver cells.
How to use
Takes 2 times a day, 1 capsule each time, preferably after eating.
Target user: The product is suitable for everyone, especially for:
People at risk of high cholesterol, who consume a lot of alcohol or beer.
People who want to enhance and maintain the health of the liver.
Note: Children under 12 years of age, pregnant and lactating women, people undergoing medical treatment, should consult a doctor before use.
Storage: Store at room temperature, avoid direct sunlight, dry, cool.
Shipping: Europe: 10-21 days
United States, Canada, America: 15-30 days
Asia, Australia, New Zealand: 12-25 days
Frequently Bought Together