Hiruscar Anti-Acne Cleanser Purifying Pore
Hiruscar Anti-Acne Cleanser cleans the skin, increase the moisturizes. It also removes excess oil and residue which causes acne on the skin. It contains highly effective skin cleansing compounds such as MPS (Mucopolysaccharide Polysulphate), yeast extract, coffee bean extract, and licorice.
Hiruscar Anti-Acne Cleanser does not contain any sulfate, no oil and no colorings.
Origin: Made in Vietnam by Medinova Switzerland
EXP: in late 2021 or later. 02 years from manufacturing date
Package: 100 ml net weight, free shipping worldwide
Cleanser Ingredients
Salicylic Acid, Moringa Seed Extract, Amino Acid, Vitamin, Gluconate & Caffein, MPS, Aloe Vera.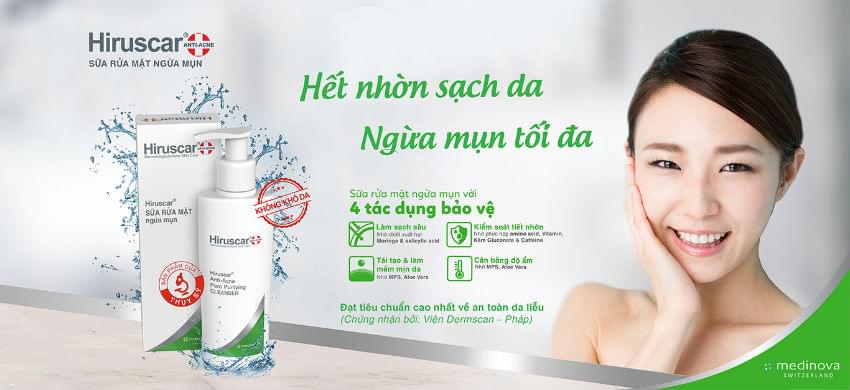 How To Use
For acne skin and oily skin: Gently massage the facial cleanser gel for about 1 minute, rinse with clean water
For other skin types:
– Oily areas (T-zone): Gently massage the cleanser for about 1 minute.
– Other skin areas: Rub cleanser in 15 seconds
Caution: In the cold season, the skin is more dry than usual, so please note:
– Only use twice a day. Reduce the amount of cleansing gel: 1 drop just enough. Faster time to wash face. Do not use water that is too warm for your face.
– Try to avoid contact with the eyes. Keep out of reach of CHILDREN. Keep in dry places