Purple Garlic Oil extract Tue Linh reduces Cholesterol, Antioxidant
Purple Garlic Oil Extract is a very special type. The purple garlic it's size is smaller than the other, but it is fragrant, spicy and contains a lot of Allicin, Glucogen, Aliin, Fitonxit.
It is used to reduce Cholesterol, increase Antioxidant, Dyspepsia, Indigestion, Cough, Sore throat, Angina, Pharyngitis, Asthma, Rheumatism, Arthritis, Bone pain, Thrombosis, and hypertension, Antiseptic.
Origin: Made in Vietnam by Tue Linh Pharma
Exp: new product, 24 months from the date of manufacturing
Packing: 100 Capsules / box, Gross weight 115 gram/ box.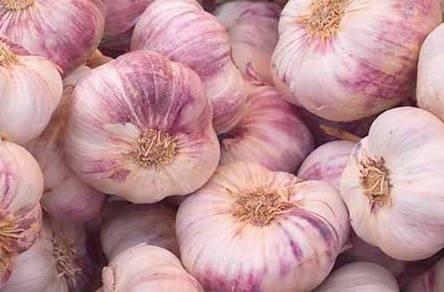 Garlic has been used worldwide for thousands of years for nutrition and health. Tue Linh garlic oil capsule contains pure oil of Vietnam Purple Garlic which is extracted from the whole fresh garlic bulb. It is a convenient way to receive the benefits of garlic in a concentrated form.
Garlic and its key constituents have been the subject of hundreds of scientific studies. As far back as the first century A.D., a Roman physician wrote of garlic's ability to "clear the arteries." In Europe, garlic has come to be seen as all-around support for preventing atherosclerosis, the cause of heart problems and strokes. Garlic can lower total cholesterol levels. It also appears to improve high blood pressure. In addition, Garlic preparations have been found to slow the hardening of the arteries in animals, reducing the size of plaque deposits. Raw garlic can kill a wide variety of microorganisms by direct contact, including fungi, bacteria, and viruses. A study in 1999 found that a cream made from garlic was just as effective for fungal skin infections as the most commonly used drug.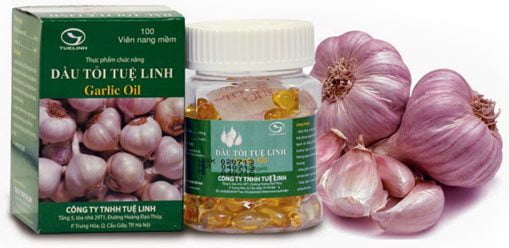 Tue Linh Purple Garlic Oil Extract
Recommend Use: Adults and children above 12 years old take 4-6 capsules/ day, 2-3 capsules/ time. Children from 6-12 year old takes 2-4 capsules/ day, 1-2 capsules/ time. Other use as directed by your physician.
Do not use it when taking an anticoagulant, or hypoglycemic drug. This product is a functional food. It is not intended to diagnose or cure any direct problems.
Storage: Keep out of the reach of children. Store in a cool dry place, tightly closed.
Shipping: Europe: 10-21 days
United States, Canada, America: 15-30 days
Asia, Australia, and New Zealand: 12-25 days
You may also like