Tropicana Slim Low Calorie 3 boxes x 50 Sachets
Tropicana Slim Low-Calorie Sweetener is a daily sugar substitute with a natural sweetness that does not raise blood sugar. It has new-generation sweeteners combined with natural cornstarch, which is safe for health. Tropicana is suitable for people on a diet and can be used for people with diabetes who want to stabilize blood sugar.
Origin: Made in Indonesia by Tropicana
EXP: new product, 01 year from the manufacturing date.
Package: 3x 50 Sachetsx 2 grams, weight-based shipping worldwide
Tropicana Slim Low-Calorie Ingredients
Synthetic sweeteners, Sorbitol Sugar, Sucralose, Acesulfame potassium, Chromium picolinate, Cornstarch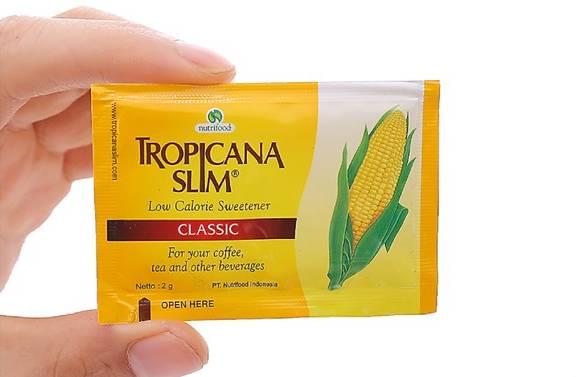 How to use Tropicana Slim products?
Mix 1 sachet (2g) into 150ml of drinking water (hot or cold). The product can be used for a variety of drinks (tea, coffee, juice …) and cooking (boiled, steamed, fried, and baked…)
Estimated shipping time to Europe: 10-21 days| United States, Canada, America, and Africa: 15-30 days| Asia, Australia, and New Zealand: 12-25 days|
Frequently bought together products