Sweet Herb Tea Bag Ngoc Thao prevents diabetes and obesity
Sweet Herb Tea Bag Ngoc Thao helps control blood sugar, and prevent diabetes and obesity. Also, it stimulates and improves the digestive system, and cools the liver.
Today, there are a lot of sugary beverages on the market. You may know that sugary drinks are unhealthy, but sometimes you just can't stop your sweet cravings.
If you still want to enjoy a sweet drink and get real health benefits, then Sweet Herb Tea is for you.
Origin: Made in Vietnam by Ngoc Thao Co., Ltd
Expiry: new product, 12 months from the date of manufacturing
Packing: Each bag contains 100 tea bags x 2 grams net weight
Why does sweet herb so sweet but brings many benefits to health?
This tea bag is produced from the Sweet Herb plant. According to scientists, sweetgrass contains the active ingredient Steviosid: This type of Glucoside has a sweet taste 300 times more than sucrose but is not energetic. So it does not make us increase the weight like normal sugars. And that is why this herb is present in many traditional medicines or processed into drinking water to replace other sweeteners.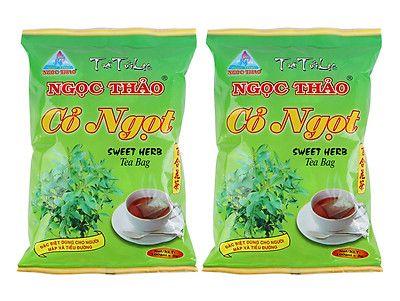 How to use this tea bag?
Put a tea bag in a glass of boiling water from 150ml to 200ml. After 10 minutes, you will have a cup of delicious tea to enjoy. Every day you can use from 1 to 3 packs. The percentage of water can be more or less depending on your strong or light drinking preference.
Storage: Keep in a dry, cool place.
Shipping: Europe: 10-21 days
United States, Canada, America: 15-30 days
Asia, Australia, New Zealand: 12-25 days
Frequently bought together