Eagle Brand Yellow Balm 20 grams x 03 boxes
Eagle Brand Yellow Balm is a type of medicated balm that is yellow in color and has a characteristic aroma. The product is used to treat headaches, dizziness, vertigo, back pain, low back pain, rheumatism, insect stings, rashes, and cold symptoms.
Origin: Made in Indonesia by Pt. Eagle Indo Pharma
EXP: new product, 24 months from the manufacturing date.
Package: 20 grams net weight x 3 boxes, shipping worldwide.
Ingredients and dosage of this balm.
DL-camphor 0.4g, Mint 1g, Menthol 1.55g, Eucalyptol 1.95g, Methyl salicylate 0.8g
Apply an appropriate amount of Golden Eagle, rub it evenly with the palm of your hand, and gently apply it to the affected skin. Use fingertips to press and massage in a circular motion on the painful skin. Repeat until you feel a warm sensation and let the eucalyptus oil soothe the pain.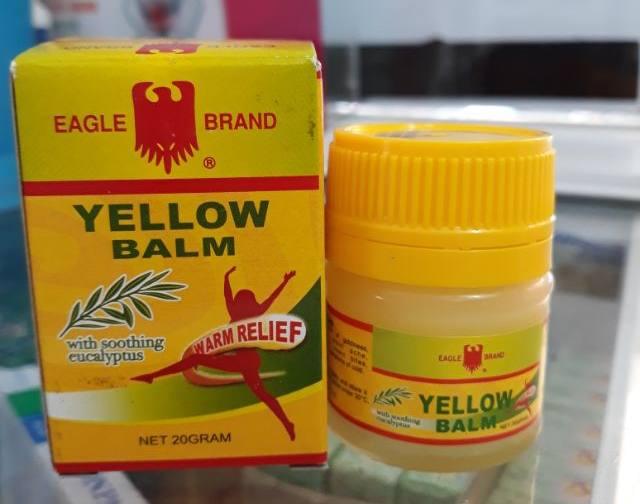 Contraindication of yellow balm 20 grams
Do not use this medicated ointment for children under 2 years old. Do not use it for wounds or damaged skin.
For external use only. Do not swallow. Do not cover the affected area with a tight bandage. Avoid contact with the eyes or mucous membranes.
It is prohibited for use by patients who are allergic to Menthol, Methyl Salicylate, or any components of this balm. Pregnant women or women breastfeeding their babies should be cautious when using the balm. Consult a doctor.
Frequently Bought Together