Amway Nutrilite Bio C Plus 100 tablets
Amway Nutrilite Bio C Plus is an antioxidant that provides a defense against free radical damage. It supports positive immunological responses to help fight bacteria and viruses. It also promotes healthy cell development, wound healing, and resistance to infection.
In addition, Amway Bio C Plus supports information and maintenance of collagen – a biological cement that binds cells together in bones, teeth, ligaments, vertebral disks, cartilage, joint linings, blood vessels, and connective tissue. It helps in the absorption of iron that forms in your blood.
Product Origin: Made in Vietnam by Amway Co., Ltd

Packing: 01 box x 100 Tablets

Expiry: new product, 02 years from manufacturing date



Amway Nutrilite Bio C Plus Benefit
An antioxidant supplement with Vitamin C derived from ascorbic acid and exclusive NUTRILITE Acerola cherry concentrate.
– Provide additional nutritional benefits of phytonutrients from the citrus multi-flavonoid complex.
– Each tablet provides 250mg of Vitamin C.
– It contains trademark Nutrilock coating which makes tablets easier to swallow.
– It does not contain any artificial colors, flavors, or preservatives.
– No added sugars, gluten, yeast, or lactose.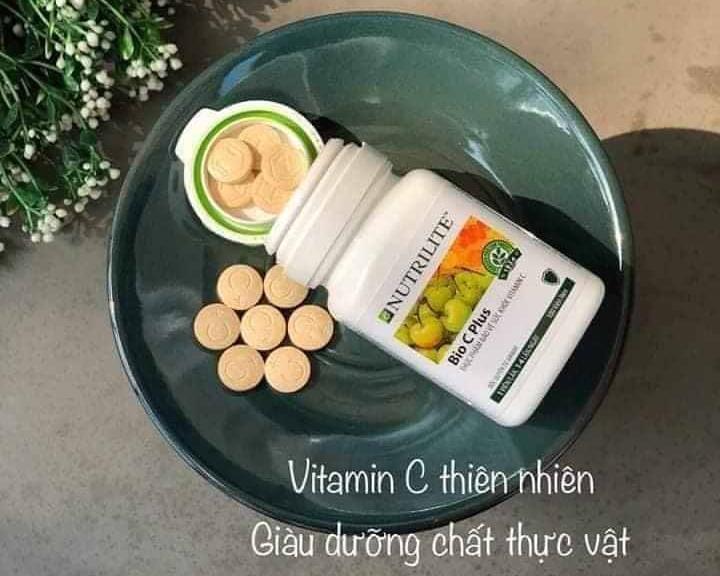 The Nutritional information and how to use this product?
Approximate composition per serving: Energy 1.90 Kcal, Carbohydrate 0.46 g, Protein 7.65 mg, Fat 2.08 mg

Vitamin C ( from ascorbic acid & Acerola Cherry Concentrate) 250 mg

Acerola Cherry Concentrate [Acerola Cherry Extract, Malpighia emarginate L., fruit, maltodextrin, silicon dioxide 200 mg.

Citrus

multi-flavonoid complex (grapefruit, mandarin, Lemon) 35 mg
Dosage: 1-4 tablets daily after meals for people aged 12 years and above. Children under 12 years of age, pregnant or lactating women or anyone with a medical condition should consult their physician before using this product.
Other product information
Shipping: Europe: 10-21 days
United States, Canada, America: 15-30 days
Asia, Australia, and New Zealand: 12-25 days
Frequently bought together