Acnes Anti-Blackhead with the MaxDefense formula
Acnes Anti-Blackhead MaxDefense with 02 functions of Intensive Cleanser & Mask helps to effectively remove blackheads and antibacterial acne, tighten pores, control sebum, prevent new acne formation, and make skin smooth, bright, and healthy.
Origin: Made in Vietnam by Rohto Mentholatum
Content: A tube contains 100 grams net weight.
EXP: 02 years from the manufacturing date
Acnes Anti-Blackhead with MAXDEFENSE optimizes the effectiveness of Salicylic Acid and Triple MINERAL Mineral system.
Salicylic Acid (2%) & Jojoba beads: Wash away sebum, and dead cells, help unlock pores, and push blackheads.
TripleMINERAL (Copper, Zinc, Magnesium): Provides essential minerals to the skin, controls sebum, prevents acne, and supports collagen production, for smooth skin.
Ingredients: Salicylic Acid (2%) & Jojoba Beads, TripleMINERAL (Copper, Zinc, Magnesium)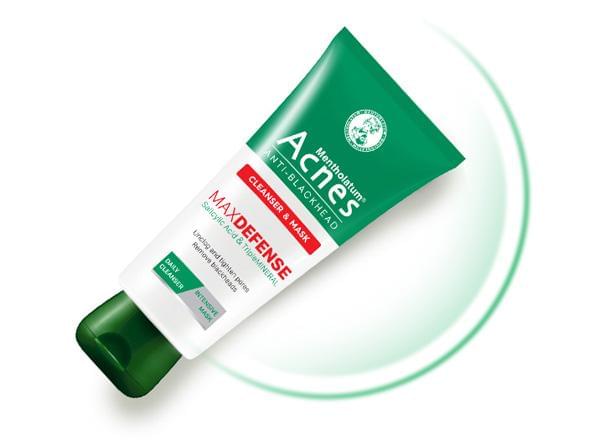 How to use Acnes MaxDefense?
Use as a face wash: Wet face, take an appropriate amount, apply directly to the face, and gently massage according to the illustration on the package for 30 – 60 seconds (massage more in the areas with blackheads). Rinse with water. Use twice a day (morning & evening).
Use as an Intensive mask: After cleansing, apply a thin layer of cream to the skin with blackheads and gently massage for 30 – 60 seconds. Leave the mask on the skin for about 3 minutes and then rinse with water. Use 1-2 times per week.
Other product information
Storage: Store in a dry place, below 30°C, away from direct light
Shipping: Europe: 10-21 days
United States, Canada, America: 15-30 days
Asia, Australia, New Zealand: 12-25 days
Frequently bought together products