Elite Cream Nguyen Quach Reduce Pigmentation Prevent Acne
Elite Cream Nguyen Quach 3 in 1 is the cream used for anti-pigmentation, maintaining healthy, natural, and bright skin, and preventing a pimple and acne.
Origin: Made in Vietnam by Nguyen Quach Cosmetic
Expiry: new product, 02 years from manufacturing date
Packing: Net weight: 18 grams in Jar. Shipping weight 110 grams
Effects: Anti-pigment, anti-acne, and regenerating cream. Moisture balance, and prevent pigment and acne.
Usage: Apply to your cleansed face and neck 2 times a day, day and night. It can be used for makeup as a base cream. The effect is visual after 5 days!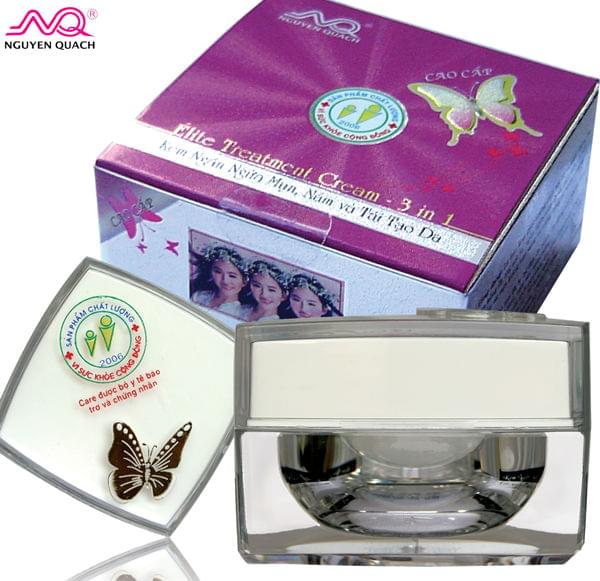 Composition: Water, Glyceryl Stearate, Paraffin, Propylene Glycol, Paraffinum Liquidum, Aloe Arborescens Leave Extract, Niacinamide, Tocopherol, Retinol, Adenine, Cyanocobalamin, Pyridoxine, Salicylic Acid (0.5%), Triclosan (0.1%), Parfum, Propylparaben (0.1%)
Shipping: Europe: 10-25 days
United States, Canada, America: 15-30 days
Asia, Australia, New Zealand: 12-25 days
Frequently bought together