Sac Ngoc Khang Cream night cream Anti Pigmentation, and Acne
Sac Ngoc Khang cream with pure Sakura, Nymphaeaceae follower extract, and other natural ingredients, penetrates deeply into the dermis layer of the skin, anti-pigmentation, and freckles. It helps the skin become smooth white glossy, protecting the skin from UV rays and the harmful effects of the environment.
Packing: 10 grams or 30 grams (Net Weight).
EXP: new product, 02 years from manufacturing date
Net weight 10 grams or 30 grams, please select from the variation
Other product information
Sakura Extract: Inhibiting tyrosinase, prevent the formation of melanin pigments. Enhanced collagen and elastin, reduce wrinkles, and improved skin elasticity.
Nymphaeaceae Extract: Significantly reduce the formation of melanin pigmentation by UV agents. Protects skin from acne, environmental pollution, the external stimuli.
Undecylenoyl Phenylalanine: Inhibition process of formed Melanin, therefore anti pigment, makes skin brighten rapidly.
Macadamia oils and moisturizers help active ingredients penetrate deeply into the skin, and moisturize the skin for 5 hours.
Indication: Anti-pigment, anti-acne, and regenerating skin. Limit the impact of UV rays, moisturize, anti-aging, and reduce wrinkles.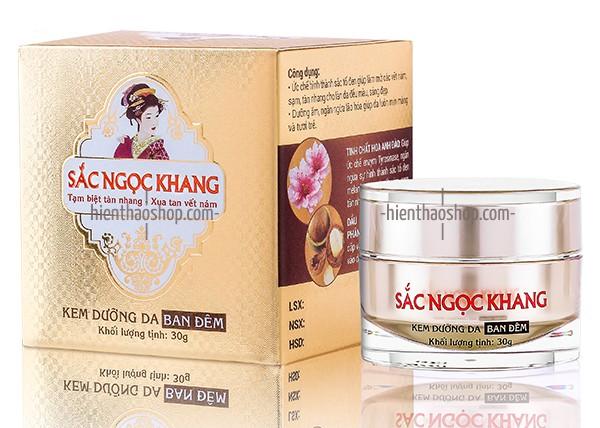 How to use Sac Ngoc Khang Cream?
Apply to your cleansed face and neck before bedtime. It can be used for makeup as a base cream.
Shipping: Europe: 10-21 days
United States, Canada, America: 15-30 days
Asia, Australia, and New Zealand: 12-25 days
Frequently bought together