Amway Nutrilite daily vitamins contain 11 vitamins and 7 minerals
Amway Nutrilite daily vitamins provide in the form of tablets. The product contains more than 11 vitamins and 7 essential minerals to serve the needs of the body. Amway Nutrilite Daily helps to strengthen the body's resistance and immunity, helping you take care of and protect your health every day.
Packaging: 01 box x 60 Tablets. Gross weight 98 grams/ box.
Expiry: new product, 02 years from manufacturing date
Origin: Made in Vietnam by Amway Co., Ltd
Please note: This product is made by the Amway factory in Vietnam. The characters on the boxes are in Vietnamese. We will send the translation paper, but please consider it before purchase. You will be able to see the ingredients and nutritional ratio in the box.
Ingredients of Amway Nutrilite Daily products
Daily vitamins and minerals Amway Nutrilite is made from natural ingredients that are safe for the body. These ingredients provide nourishment to the body to help you maintain the health and normal functioning of the body. The product has more than 11 vitamins and 7 minerals for the body such as:
Vitamins: A, B1, B2, B6, B12, C, E, D'Niacin, pantothenate
Minerals: Calcium, Phosphorus, Iodine, Iron, Magnesium, Copper, Zinc
These ingredients are from Polyscias Fruticosa, Watercress, Parsley, Spinach, Carrot, and Acerola cherry.
The product does not contain preservatives, colorants, or flavors.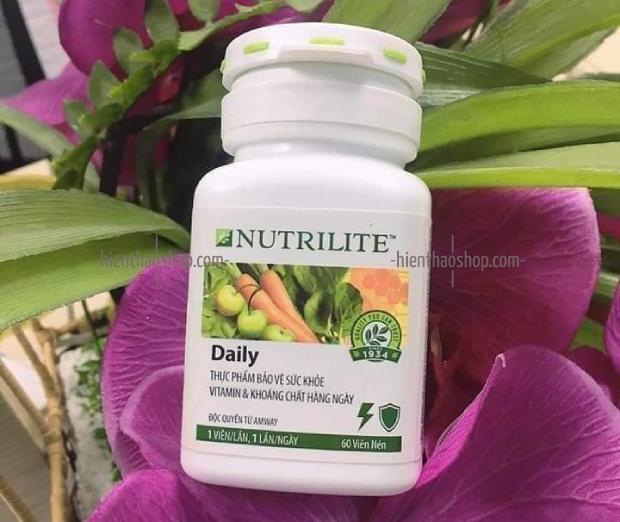 Outstanding uses of the product
Daily vitamins and minerals Amway offers advantages and outstanding benefits for the body as below:
Provides abundant levels of vitamins and minerals to serve the body's daily needs.
Contains vitamins and minerals from natural vegetables to support the digestive system, prevent constipation, and supplement fiber for the body. Strengthening resistance, immune system, nurturing, and strengthening the body
How to use: The product is taken daily at a dose of 1 capsule/time/day after breakfast or lunch to increase absorption.
The product is suitable for those who have difficulty absorbing nutrients through food, tired working people, sick people, and people who often skip meals. Children under 12 years old, pregnant women, and breastfeeding women, should consult a doctor before use.
Note: The product is not a medicine and has no substitute for medicine.
Shipping: Europe: 10-21 days
United States, Canada, America: 15-30 days
Asia, Australia, New Zealand: 12-25 days
Frequently Bought Together