Chamomile tea Cozy 2g x 20 bags
Chamomile tea Cozy has a natural cool taste that gives you a rich and refreshing natural fragrance. The product is made from tea buds that are picked and processed according to the traditional technical process combined with a pure natural aroma to help you have moments of relaxation and refreshment.
Origin: Made in Vietnam by Cozy
Package: Each box contains 40 grams of net weight
Expiration: new product, 01 year from the date of manufacture
Ingredients: Green Tea and Chamomile
Benefits of chamomile tea
Chrysanthemum is used in comprehensive beauty care for women, especially good for higher-weight people who want to lose weight quickly. It is also effective in reducing blood fat, dissolving excess fat, and supporting maximum weight loss.
It has the effect of clearing heat, detoxifying, clearing colds, cooling the liver, and brightening the eyes.
Long-term use of chrysanthemum tea will help a fresh face, and bright skin, and increase longevity.
Chamomile can help fight bacteria, and viruses that cause colds and flu, dilate blood vessels, reduce blood fat, soothe nervous tension, and help sleep.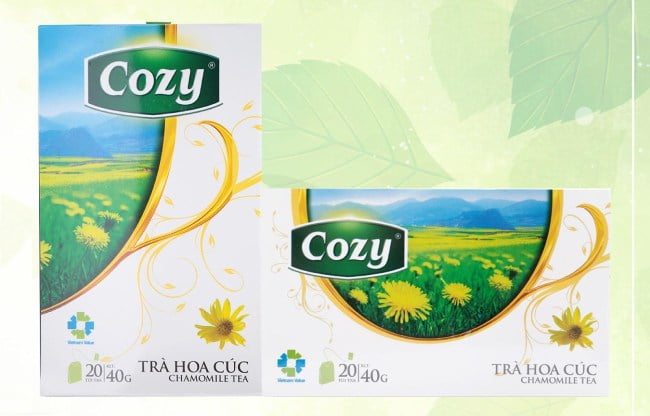 Instructions for use
Put a filter bag in a cup or kettle, pour boiling water in, and wait for 4-5 minutes. Able to add sugar. Drink hot or cold as you like.
Storage Instructions: Store in a cool, dry place. After opening the box, store the product in a non-metallic container, store it in the refrigerator, and use it up within 3 days.
Shipping: Europe: 10-21 days
United States, Canada, America: 15-30 days
Asia, Australia, and New Zealand: 12-25 days