Creative 8 coffee Trung Nguyen Legend 500 grams
Creative 8 coffee Trung Nguyen or the Vietnamese name cafe Sang Tao 8 helps to refresh the mind, reduce the risk of diabetes, benefit the liver and heart, help with weight loss, and antioxidants, and reduce the aging process.
This coffee is produced with both the most intense love and passion for coffee. The product is made from the purest and best coffee beans in Vietnam. It is carefully selected, carefully selected in combination with mysterious Asian roasting secrets.
Trung Nguyen coffee creative 8 helps coffee lovers and connoisseurs with more than a cup of delicious, seductive coffee, but also special energy. The source of energy for the activation of the mind, for the inspiration of creative ideas, and for success.
Expiry: new product, 02 years from manufacturing date
Made in Vietnam by Trung Nguyen coffee
Packing: 1 package contains 500 grams net weight
Cafe Trung Nguyen 8 sparks creativity
The secret of coffee roasting requires a lot of necessary and sufficient factors: The right temperature, and enough time to produce the right special flavor. When there is an impact of temperature, the coffee beans will evaporate and swell, causing the weight of the beans to decrease but the volume of the beans to increase. The chemical reactions that take place during the roasting process help to color and flavor the finished coffee.
This coffee will be a great gift for each new day when starting work, or a great drink when you are stressed. A creative coffee number 8 will really be a source of inspiration and creativity.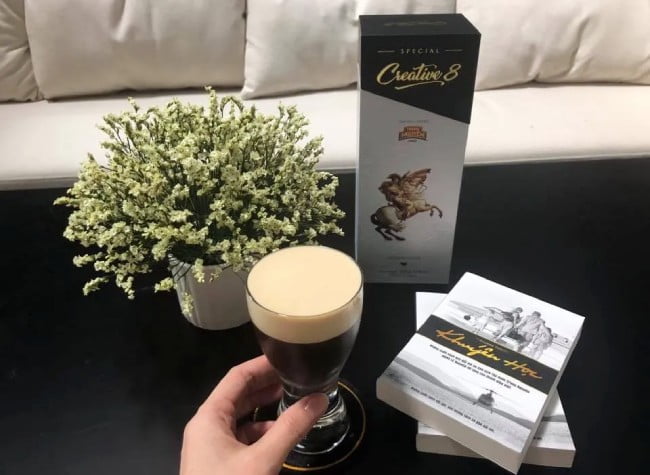 How to drink this coffee?
Step 1: Put into the filter 20g (about 3 tablespoons) of powdered coffee, then shake well and gently compress the inner lid.
Step 2: Use about 25 ml of boiling water to fill the filter, and wait 2 minutes for the coffee to infuse. Then add about 50 ml of boiling water, close the lid, and wait for the coffee to drip through the filter.
Step 3: Add condensed milk, sugar, and ice according to your taste and enjoy.
Other related information
Storage: Keep in a dry, cool place. Protect from light and high temperatures over 30 Celcius
Shipping time to Europe: 10-21 days
USA, Canada, America, Africa: 15-30 days
Asia, Australia, and New Zealand: 12-25 days