Angela Gold Ginseng Naturally Improves Women's Hormone Estrogen
Angela Gold Ginseng or Angela Women's Ginseng is extracted from Lepidium Meyenii – a Peruvian Ginseng. It is an herbaceous biennial plant of the crucifer family native to the high Andes of Peru. It is grown for its fleshy hypocotyl (a fused hypocotyl and taproot), which uses as a root vegetable, a medicinal herb, and an aphrodisiac.
Nutrient composition of Lepidium Meneyii found in roots. Lepidium Meyenii is rich in minerals such as vitamins, amino acids, sterols group, Glucosinates group, Alkaloids Group, fatty acids, and fiber group…
Expiry: 02 years from manufacturing date
Packing: 01 bottle x 60 Capsules

Product Origin: Made in the USA by Eco – St. Paul Pharma
How to Use Angela Gold Ginseng?
The adult takes 02 capsules per day, after meals. Round use from 1 to 3 months. Should use regularly.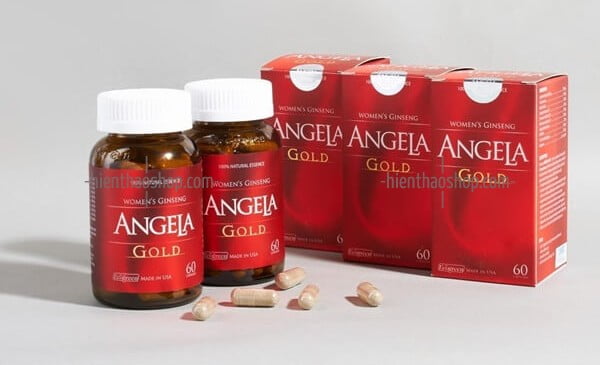 Ingredient: Lepidium Meyenii Ginseng, Black Cohosh, Dong Quai Extract 5:1, Damiana Leaf Extract 5:1, Muira Puama Extract 6:1, Ginkgo Biloba Extract 24%, Excipients……q.s. 1 capsule
Women's Ginseng ANGELA- 100% Natural extract, produced by advanced technology in the United States, following the GMP standards. This proprietary blend of botanicals helps increase sexual desire for women, increase libido, treat vaginal dryness, and support hormonal balance: estrogen, progesterone, and testosterone
Shipping: Europe: 10-21 days / United States, Canada, America: 15-30 days/ Asia, Australia, New Zealand: 12-25 days
Frequently bought together