Traphaco Topical Powder Deodorant, 3 boxes x 30gr, Prevent Smell Shoes, Sock, Foot
Contain: Potassium aluminum sulfate anhydrous ….. 28.0 g; Copper sulfate ….. 1.0 g; Aroma …q.s… 30.0 g; Zinc oxide … 1.0 g
Origin: Made in Vietnam by Traphaco pharma
How To Use: Antiseptic, deodorant, antiperspirant, eliminating the unpleasant smell. Prevention and relief of smelly armpits, smelly feet when wearing shoes.
Dosage: Put some TRAPHA

into armpits, feet after having a bath and rub thoroughly, 1 -2 g each time, 1 – 2 times daily. 

Spray TRAPHA

into shoes.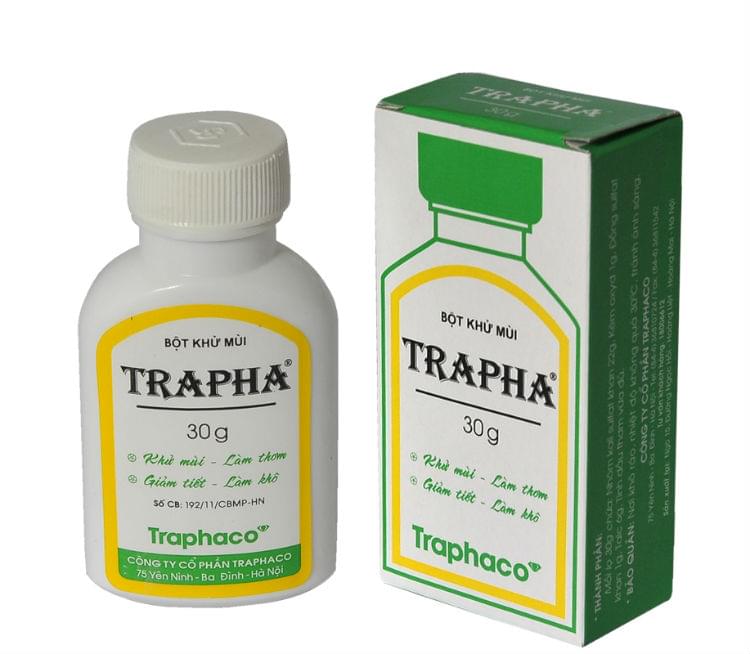 No Contraindication has been reported
EXP: 2021 or Later
Warning: Do not use if this expired. Keep out of reach of children
Packaging: 03 boxes x 30 grams, shipping weight 245 grams, shipping cost will be calculated at check out process.
Shipping: Europe: 10-21 days / United States, Canada, America: 15-30 days/ Asia, Australia, New Zealand: 12-25 days