Acnes Medicated Sealing Jell 18 grams prevents acne
Acnes Medicated Sealing Jell helps prevent acne and comfort skin. It removes oil, dirt, and other impurities that can cause pimples. This product also reduces bacteria with Isopropyl Methylphenol, Etioline Extract, Vitamin B6, and E. It helps enhance skin fairness and freshness.
Origin: Made in Vietnam by Rohto Mentholatum
Package: each tube has 18 grams of net weight
Expiry: 02 years from manufacturing date
Ingredients: Water, Alcohol, Butylene Glycol, Glycerin, PEG-40 Hydrogenated Castor Oil, Ascorbic Acid 2-Glucoside, Triethanolamine, Carbomer, Tocopheryl Acetate, Propylene Glycol Alginate, BHT, Cetrimonium Bromide, Allantoin, Disodium EDTA, Isopropylmethylphenol, Pyridoxine HCl, Salicylic Acid, Methylparaben, Fragrance, Daucus Carota Sativa Root Extract, Butylene Glycol, Phenoxyethanol, Sodium Starch Octenylsuccinate, Maltodextrin, Caprylic/Capric Triglyceride, Helianthus Annuus Seed Oil, Beta-Carotene, Tocopherol, Citric Acid, Ascorbyl Palmitate, Potassium Sorbate.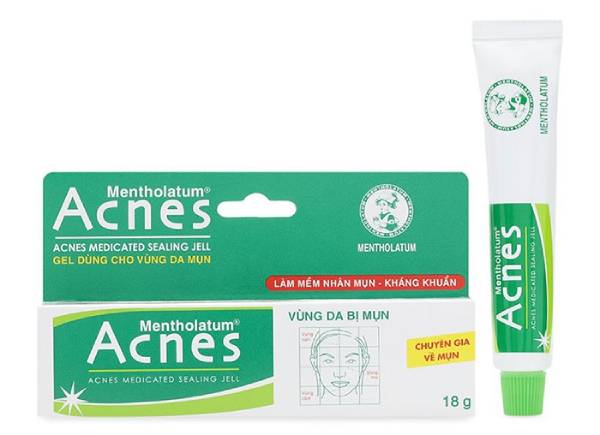 How To Use Acnes Sealing Jell?
Clean face, apply on pimple-affected areas. For best results, apply one to three times daily.
Caution: Keep out of reach of children.
Do not apply it to the eyes
Do not use on irritated or infected skin e.g. Active acne, rosacea, eczema, etc
Should only be used on scars that have fully healed
Other related information
Storage: Keep in a dry, cool place.
Shipping: Europe: 10-21 days
United States, Canada, America: 15-30 days
Asia, Australia, New Zealand: 12-25 days
Frequently bought together