Acnes Anti-Acne Mask Trio-Activ 65ml (3 sheets)
Acnes Anti-Acne Mask Trio-Activ is a special mask for oily and acne-prone skin. It has the breakthrough formula TRIO-ACTIV to reduce acne on the skin. The main properties are to clear acne, limit scarring, and prevent new acne.
Origin: Made in Vietnam by Rohto
Content: A tube contains 65ml net weight (3 sheets)
EXP: 02 years from the manufacturing date
Ingredients of Acnes Anti-Acne Mask Trio-Activ
WITCH HAZEL (witch hazel extract): helps to soothe the skin, and prevent the growth of acne bacteria, thereby clearing blackheads and whiteheads
ALOE VERA (aloe vera extract): supports the skin's regeneration process, thereby limiting scarring and darkening, making the skin smooth

ZINC PCA: aids in oil control thereby preventing new acne formation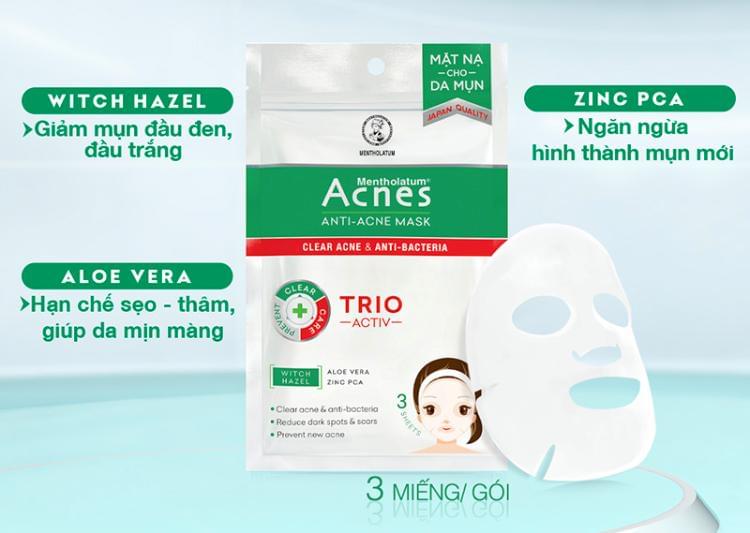 How to use this product?
Clean your face, apply the mask on your face, relax for 5-15 minutes, then take out the mask. Gently pat the entire face with your hands so that the solution is fully absorbed into the skin. Do not rinse with water. Used mainly at night
Other product information
Storage: Store in a dry place, below 30°C, away from direct light
Shipping: Europe: 10-21 days
United States, Canada, America: 15-30 days
Asia, Australia, New Zealand: 12-25 days
Frequently bought together products